Greetings students, educators, families, and organizations andwelcome to my first education blog.
I have had an exceptional first week as associate administrator for education at NASA. I traveled to Langley Research Center toattend a senior staff retreat and met with my team at NASA Headquarters. I alsoconducted a media roundtable and live shot television interviews on Wednesday,October 20.  But it really was apleasure to close out this week by attending the first USA Science andEngineering Festival on Sunday.
The USA Science & Engineering Festival launched earlierthis month with activities in schools in the DC area. The festival concludedwith a huge event this past weekend on the National Mall and other spots inDC.  NASA had a large presence withover 28 booths and joined nearly 500 other groups. I spent time at the NASAareas on the Mall and also at Freedom Plaza interacting with people of allages. It was great to see so many young people out there getting involved withscience and engineering.  NA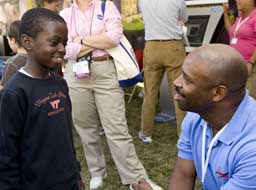 SAAdministrator Charlie Bolden came by, and Nobel Prize winner John C. Mather, whois an astrophysicist at NASA Goddard Space Flight Center, gave a talk. This wasa treat for festival participants, and I am grateful that they were able toparticipate. Charlie has established an unprecedented NASA focus on math andscience education, and John is an inspiration to all of us.
The many NASA booths featured a variety of hands-onactivities, demonstrations, exhibits, and banners. Kids had their photos takeninside a full-size spacesuit, tested how their grip changes when wearing aspacesuit glove, teamed up to practice docking the space shuttle, and watched awind tunnel demonstration.  Thoseare just a few highlights of the amazing things that were happening.
All who visited the NASA booths could also see the exciting NASASummer of Innovation calls to action everywhere – "Imagine it. Explore it. Doit!"  This is what we have beenurging the nation's middle school students to do since June when we kicked offthis project in response to the president's Educate to Innovate campaign.  I am proud of the national effort thattook place to engage middle school students in hands-on science, technology,engineering and math activities during the summer break. We reached more than75,000 students, and I anticipate many more in years to come.
The pursuit of the minds and career ambitions of America'syouth is as challenging and important to humanity as the quest for space.  I can say from personal experience thatboth journeys are equally exciting and rewarding.
They are also dependent upon oneanother, because our continued discovery and progress on Earth and in spacewill require the energy and innovation of the next generation. I turn to this newfrontier in education with the knowledge that this is a team effort and willrequire dedication of countless individuals.
I want to thank everyone – the NASA staff supporting ourbooths, the other organizations exhibiting at the expo, and the families andorganizations that brought young people to this amazing event. Everything youare doing is helping inspire tomorrow's explorers today. I truly believe in ourpower to change lives, and this weekend's activities are true examples of this.We are empowering our youth to take charge of their destiny and help create abetter future for us all.
Reach for the Stars!
Leland