The Space Shuttle Endeavour's magnificent journey has come to an end after 25 flights during its 19 years of service.  Endings are sad, but the memories are good.  Endeavour certainly has provided many wonderful memories over the years, both in its flight and engineering accomplishments, but also in terms of inspiration – like its launch on mission STS-134 just last month.
In my last blog I wrote about our special emphasis on military families for our STS-134 Pre-launch Education Forum.  We developed the content of this forum to align with the recently announced White House campaign called Joining Forces, an effort to show support to military families. It was a wonderful and enlightening experience to foster an education discussion with this group and to share the excitement of a launch with those people who give so much of themselves to the citizens of America.  
But there were many other inspiring education-related activities tied to the STS-134 launch as well.  
I had the opportunity to meet two exceptional teenage girls who were inspired by spaceflight, sisters Mikayla and Shannon Diesch.  They won the 2010 Conrad Foundation Spirit of Innovation Challenge for their creation of the STEM Bar, a space nutrition bar that met the standards set by NASA Johnson Space Center's Nutrition Laboratory.  Their STEM Bars actually flew on STS-134 as a food choice for the crew.  That's taking a creative idea to new heights!  STEM stands for science, technology, engineering and mathematics, and the Diesch sisters are working hard to encourage their peers to pursue STEM studies and chase their dreams.  Read more about that at the end of this blog.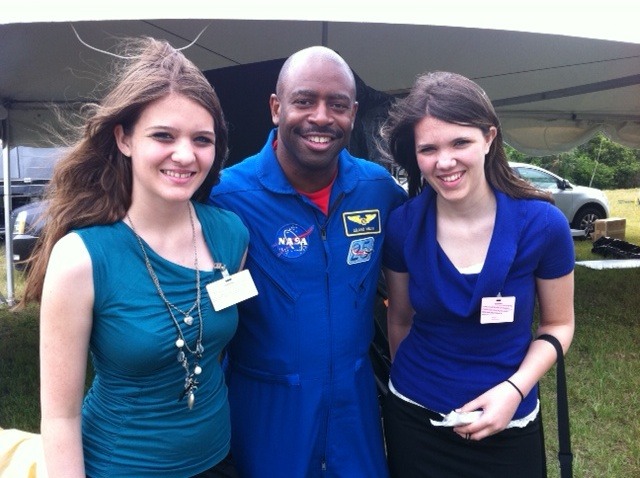 The STS-134 launch also featured a great partnership that NASA has with the LEGO Group.  Our cooperative efforts use the allure of NASA's space program with the creativity and fun of building with LEGO bricks to teach STEM principles – it's a perfect formula.  Earlier this spring, I had the opportunity to meet with LEGO innovators in Denmark.  It was inspiring to see so many people brainstorming on how to use these iconic little bricks to engage youth and propel them toward technical studies and careers.
I also participated in my third NASA Launch Tweet-Up.  This enthusiastic and tech-savvy group shares the 'NASA cool' with their Twitter pals, and they really embraced what NASA is doing to inspire and help students excel in their studies and consider pursuing STEM.  Their willingness to help us spread that message was wonderful.
I had many other opportunities to interact with media – both traditional and in the social realm – and they, too, support our NASA education efforts.  It's through partnerships, teamwork, and all of us working together that we will increase STEM literacy in this nation and inspire the next generation of explorers.  I think my colleagues, the crew of STS-134, would agree that it is a fitting tribute to Endeavour's final flight.
*****
High School Sisters Feed Interest in 
STEM Education with Space Nutrition Bar
"No matter how old or young you are, you can do it if you put in the work. It's about the effort," said Shannon Diesch. 
This philosophy certainly paid off for Shannon and her sister, Mikayla. The sisters, 14 and 16, of Battle Creek, Mich., had the special honor of watching the launch of Space Shuttle Endeavour's final mission. Onboard are several of their STEM space nutrition bars. 
Mikayla and Shannon created the STEM Bar, a meal replacement granola bar as part of the 2010 Spirit of Innovation Awards program hosted by the Conrad Foundation and received their award last May by NASA Deputy Administrator Lori Garver during the closing ceremonies at NASA Ames Research Center. 
It certainly didn't end for these high-school sisters after the student competition. After winning the 2010 Spirit of Innovation award, they really got busy. Through the Conrad Foundation, the girls received access to mentors from Kellogg Company, JPG Resources and Bridgetown Bakery, keys to a local food science lab, and the opportunity to attend the launch of STS-134.
"We've worked on these bars for so long. We were so nervous when we made the bars that had to go for testing; we were worried they wouldn't pass the strict NASA guidelines. Now, we're so excited that they are actually flying in space for the STS-134 crew to enjoy as a nutritional snack," Mikayla said. 
"Through a Space Act Agreement between NASA and the Conrad Foundation, this and other real-world learning opportunities are opening up for students of all ages," said Leland Melvin, associate administrator for education for NASA. "Having students like Mikayla and Shannon reaching out to their peers is what will move the needle in inspiring other students to study math and science."  
Shannon and Mikayla are using their new acclaim to raise awareness of careers at NASA and the aerospace industry and the importance of STEM education. Prior to participating in the Spirit of Innovation Awards program, neither sister had considered the STEM field as a possible career choice. Now that they know the variety of options available to them, they want to share what they know with students around the country.
Both girls agree they were surprised how many students don't enjoy STEM classes and believe more relevant application activities are needed in the classroom to make math and science appealing to students.