The Ares I-X team was very excited on Friday when the frustum rolled into the Assembly Refurbishment Facility at Kennedy Space Center, making it the final newly manufactured segment to arrive for this summer's Ares I-X launch.
The frustum is the segment between the Forward Skirt Extension and the upper stage of the Ares IX launch vehicle.  As you can see, it looks a lot like a giant funnel. Its main function is to transition the flight loads from the thicker upper stage to the thinner first stage. It weighs in at approximately 13,000 pounds, and is 10 feet long. It's composed of two machined, aluminum-forged rings that are attached to a conic section. The large diameter of the cone is 18 feet, while the small diameter is 12 feet. The thickness of the cone is only 1 ¼ inches! Kind of amazing.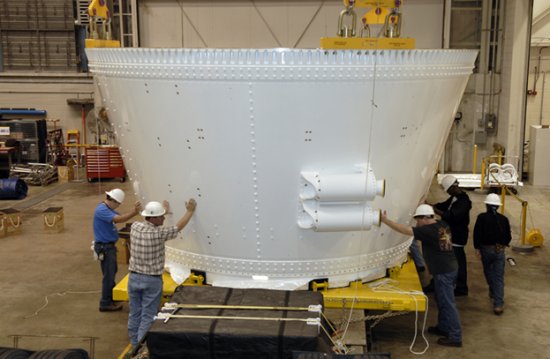 Now that the frustum is at Kennedy, technicians will begin the final processing and it will be integrated to the forward skirt and forward skirt extension to make the forward assembly. The completed forward assembly will be moved over to the Vehicle Assembly Building for stacking operations scheduled to begin in April.
With the arrival of the frustum, the team now waits for the final rocket components to arrive — the motors. The rocket motors, manufactured by ATK in Utah and shipped via rail to Kennedy, are scheduled to arrive next month.