About the Author: Amber Philman serves as a Public Affairs Officer at Kennedy Space Center.

---
Looking out over Kennedy Space Center's skyline toward the Atlantic Ocean, the stage is being set around Launch Pad 39B for the next generation of NASA space vehicles.
On January 4th a huge crane lifted the remaining steel structure and fiberglass mast from the ground and hoisted it up, completing a 600-foot-tall lightning tower that now sits on the east side of the launch pad.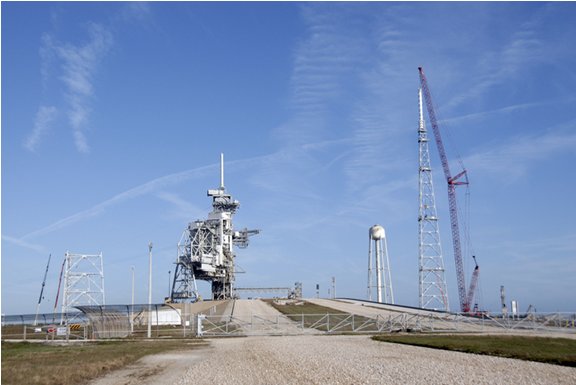 The tower is the first of three that are part of the new lightning protection system for the Constellation Program's Ares and Orion launches. The contract to complete the work was awarded to Ivey's Construction Inc. on Merritt Island in July 2007 and construction on the foundation for each began in August 2008.
It's taking 900 tons of steel, about 50 NASA and contractor workers, as well as two cranes, a small one and a mammoth one, to complete the work. The small crane rotates tower segments, while a 640-foot-tall Manitowoc Model 2100 crane lifts segments to higher elevations. Workers preassemble sections of the tower on the ground before lifting them into place.
The initial assembly of all three towers is expected to be complete by April and the whole lightning protection system by March 2010. The pad's fixed service structure and rotating service structure will be demolished in 2010.
A system of overhead wires attached to the mast of each tower will provide the Ares launch vehicles a blanket of protection from lightning strikes, while cameras installed on each tower will record any strikes. For the Ares I-X test flight, currently targeted for July 2009, the overhead wires will be attached from tower 2 to tower 1 to protect the vehicle.
The towers also will house weather stations at four elevations to measure wind speed, wind direction, temperature and humidity.
When all the work is complete, this launch pad will look quite a bit different.