On Jan. 5, NASA issued a request for proposal for Phase I concept definition and requirements development for the Ares V heavy lift rocket. The Ares V is a key transportation system for exploration beyond low Earth orbit, as well as NASA's primary vessel for safe, reliable delivery of large-scale hardware to space. It is a primary component of the Constellation Program to help carry human explorers back to the moon, then onward to Mars and other destinations in the solar system.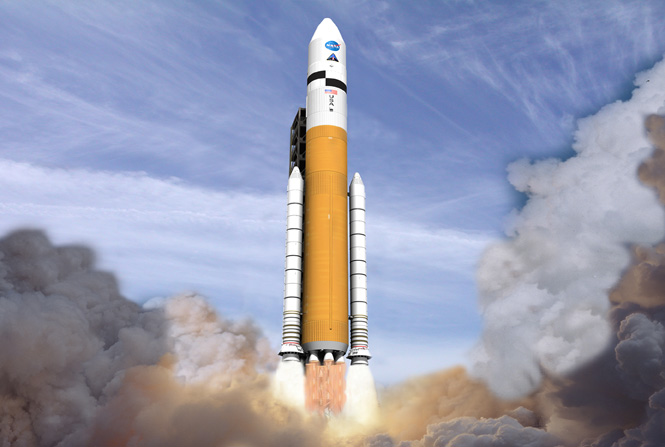 Ares V offers unprecedented payload capabilities — 40 percent more payload to Trans Lunar Injection (TLI) by itself than the Saturn V was designed to deliver.  In combination with Ares I, it can deliver nearly 60% more to TLI than Saturn V.  The Ares V increased payload and volume capability will make it the largest launch vehicle ever built as well as a national asset with potential users outside NASA. The astronomy, planetary science and Earth science communities already have shown interest in Ares V.
For such a large endeavor, the Ares team at Marshall has strategically solicited the help of other NASA programs, NASA centers, experts with experience going back to the Saturn and Apollo development, as well as industry expertise to create the best design possible for the nation's next space craft to the moon and beyond. This desire for input from various areas of expertise is captured in the recent Ares V Request for proposal (RFP).
What's in the RFP?
The Ares V Phase I solicitation includes five separate work packages available for bid. The packages include evaluation of specific Ares V elements including the payload shroud that will protect the Altair lunar lander during launch, the Earth Departure Stage, the core stage, and avionics and software. The products for these packages include assessing risks and opportunities for the point of departure (POD) architecture, trade studies and analysis, assessment of NASA requirements and a final report. The fifth work package includes a first stage concept for an upgraded solid rocket fueled booster. It will focus on exploring booster options and abilities to increase performance and operability.
Proposals are due Feb. 17. Contracts are slated to be awarded in March or April 2009. The period of performance for each contract is 18 months with two, one-year options. Multiple awards per element could be awarded.
NASA-led assessments, analysis and trade studies coupled with industry study packages will feed into the final POD architecture and element definition for Phase I. This work will enable the Ares V team to move to element prime contracts for Phase II in the 2012 timeframe.
 
What Does Phase I Include?
Phase I will focus on defining system level requirements, validating that they can be accomplished with maximum utility in regard to cost, reliability, operability and performance and reducing risk for design, development, test and evaluation (DDT&E).
In Phase I, NASA is engaging industry to assess our designs, identify risks and opportunities, and develop trade studies and analyses. This is to ensure we clearly define our concept of operations, requirements, interfaces, and design concepts for Ares V prior to prime contractor procurement activities.
Phase I will include contractor support to NASA design efforts through the Ares V Systems Requirements Review (SRR) in June 2011 and the System Definition Review (SDR) slated for spring 2012.