How did NASA select the Ares family of rockets as America's new space transportation system?
Since the 1980's, NASA has evaluated thousands of studies relating to space transportation. It has been said we could "pave" the way to the moon with all the studies that have been conducted. These studies looked at thousands of combinations and variations of how to send humans beyond low Earth orbit, back to the moon and on to Mars.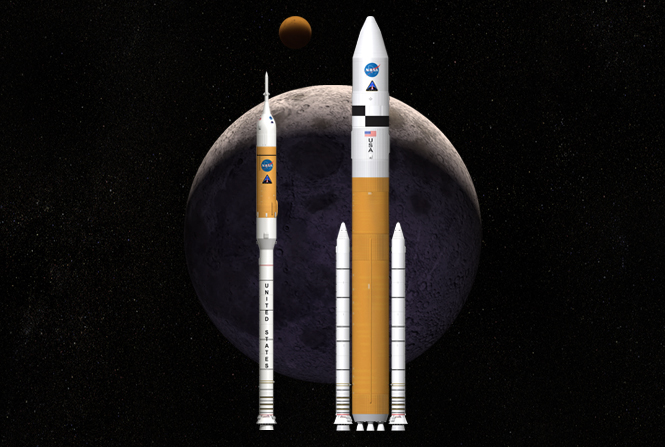 NASA looked at a wide variety of launch concepts — from the Evolved Expendable Launch Vehicle (Atlas V, Delta IV), Space Shuttle (including Shuttle C, Direct type approaches and other solid and liquid rocket booster propelled systems) combinations, foreign systems and clean sheet designs.
The Exploration Systems Architecture Study (ESAS) was chartered in the spring of 2005 to recommend a fundamental architecture for supporting International Space Station, Lunar and Mars transportation.
Using data from previous and ongoing studies (several hundred vehicles), and consisting of a team of knowledgeable experts from inside and outside NASA, this study compared many launch and staging options for safety, effectiveness, performance, flexibility, risk and affordability.
ESAS concluded that NASA should adopt and pursue a Shuttle-derived architecture as the next-generation launch system, using a smaller vehicle for crew missions and a dedicated, heavy-lift launcher for cargo missions. This approach was selected due to several significant advantages, particularly safety, reliability and cost.
NASA continued to refine its launch recommendations post-ESAS. Since early 2006 NASA has made the following major modifications to the initial designs.
Upgraded from the shuttle's four-segment reusable solid rocket booster design (RSRB) to a five-segment RSRB design — forming a common basis for Ares I and V Eliminated the space shuttle main engine (SSME) in favor of a newly designed J-2X engine for the Ares I upper stage. The Ares V upgraded from a five-segment RSRB with expendable SSME Core to a derivative of the Ares I 1st stage with a six-engine RS-68 Core and the J-2X engine for the earth departure stage (EDS).
Developing the new J-2X engine for both the Ares I upper stage and the Ares V Earth departure stage solves several potential problems including starting the SSME at altitude and the major expense of using it for the first stage engine. For additional cost savings Ares will use the expendable RS-68 engine which is "off the shelf" technology that meets both Department of Defense and NASA needs.
These combined changes represent a projected savings of over $5 billion in life cycle costs below the initial ESAS recommendations.
The shuttle heritage design offers years of proven flight concepts with a very strong technical and safety foundation for next-generation vehicle. Since ESAS, NASA has continued to assess options — over 1,700 to date. After a thorough analysis of all the exploration architecture requirements, other solutions were ultimately determined to be less safe, less reliable, and more costly than Ares I and Ares V.
Throughout the selection process for its launch vehicles, NASA has been thorough, transparent, subject to regular independent reviews, open to alternative ideas, and has made all of its decisions based on hard data.
Ares is a solid foundation for America's future in space.