A mockup of NASA's nearly 45-foot long launch abort system (LAS) for the crew exploration vehicle, Orion, will be on display from 5 p.m. – 8 p.m. CDT on Thursday, June 18 at New Mexico State University's "horseshoe" area.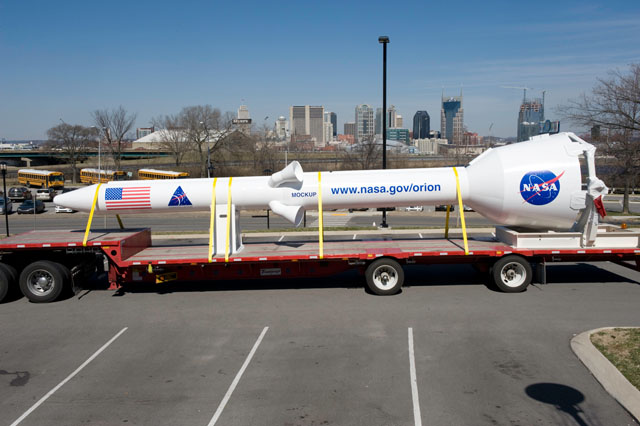 The system is being used to help NASA engineers prepare for the Pad Abort 1 test, which will take place in nearby White Sands Missile Range in November. When astronauts launch to the moon aboard the Orion crew exploration vehicle, the LAS will pull the crew and its module out of danger should a malfunction in the launch vehicle occur on the launch pad or during ascent atop the Ares I rocket. The 90-second Pad Abort 1 flight test will help gather information about how LAS operates in reality.
Other NASA exhibits include a large inflatable tent, handouts, a guest appearance by EVA, one of NASA's inflatable astronauts, and models of its newest space vehicles, the Orion crew module and the Ares I and Ares V rockets. NASA's Constellation Program is developing these vehicles, including the Altair lunar lander, to send humans to the International Space Station, moon and beyond after the shuttle retires in 2010.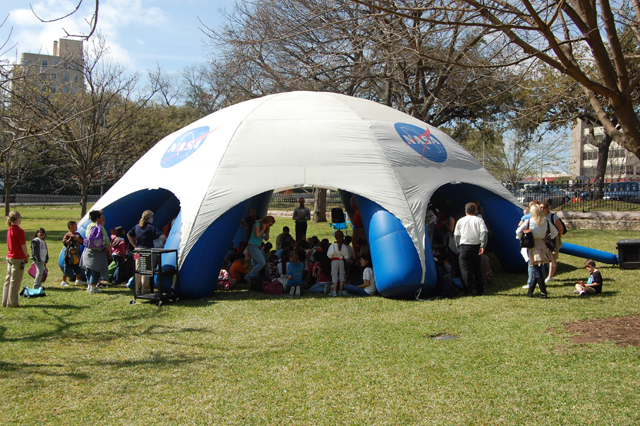 Folks in the area are invited to catch a glimpse into NASA's next steps in space exploration. We'll have NASA employees there from Dryden Flight Research Center in California, Johnson Space Center in Texas, White Sands Test Facility and White Sands Missile Range in New Mexico. The public events are part of the Las Cruces community event held in conjunction with the June 19 groundbreaking of Spaceport America, the world's first purpose-built commercial spaceport.
For more information about NASA's next steps in space exploration, visit: https://www.nasa.gov/constellation.