By Kathy Christian
Employee Assistance Program
NASA Dryden Flight Research Center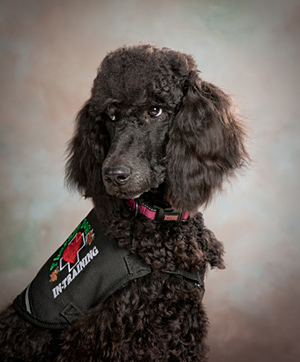 I am a clinical psychologist at NASA's Dryden Flight Research Center at Edwards Air Force Base in California. I have been manager of the center's Employee Assistance Program (EAP) for 12 years. 

Image Right:  Ella, NASA Dryden's new therapy dog.

The EAP office at DFRC is staffed by two individuals, a pre-doctoral intern named Monique and myself. We provide psychological services to employees and their dependents for problems such as depression and anxiety. We are also involved with consultations with supervisors and managers regarding employee-related problems. We lead the Critical Incident Stress Management Team and are also part of the Emergency Operations Center, which is lead by the Office of Protective Services. We are involved in training of employees on a variety of topics, from workplace violence to stress and burnout.  
During my time at Dryden, I have made it my goal to provide a confidential service that employees view as supporting the center's mission. A healthy workplace is made up of employees who have good morale and whose stress is under control. I believe that the success of the EAP can be determined, in part, by the impact it has on these factors.
I have always tried to look for ways to create the best EAP office possible. I look for ways to leverage my 27 years as a psychologist to help make Dryden a great place to work. There are people who have doubts as to the usefulness of such services, but it is my experience that they are in the minority.
About six months ago I read about Arnold the Therapy Dog. Arnold is an English mastiff that is owned and handled by Jon Fishman, who provides his services to employees and their dependents at Edwards Air Force Base. It has been said that he is the only individual on the base who can visit the air base commander without an appointment. That says a lot in a military setting, I think.
The use of animals to help humans has a long and distinguished history. Most people are aware of guide dogs for the blind and hearing ear dogs. These are called service dogs, and they are most often utilized in situations where one specially trained dog provides specific services to one human partner.  
 
The therapeutic use of dogs (and other animals) reaches much farther, however, and also includes what have come to be called therapy dogs, used by one handler for the benefit of many people. Studies have shown that nursing home residents who are given their meals in view of an aquarium consume more food and gain more weight than those served their meals in their room or in a dining area. This has a big impact on their health and overall well-being. Individuals in hospitals where therapy dogs are utilized often recover faster and report less pain during recovery. The list of the positive effect of animals on humans is long. I wondered what sort of unique effect a therapy dog might have in a workplace like Dryden.
I have been around dogs my entire life. When I was in college, I started raising and showing Australian shepherds. I was involved in conformation, obedience and herding-dog competitions. I also became involved in those activities with border collies. These are two very smart breeds and I had a really great time with this hobby for about 20 years. Marriage, children and work came along, and I had less and less time for my hobby. Today my only dog is a border collie named Jack.
When I read about Arnold, I started to think of my own work at NASA and wondered whether having a therapy dog like Arnold might bring another dimension of services to the EAP program. I set about doing a lot of research in order to "get smart."
I pitched the idea to leaders here at the center and got their approval to give my idea a try. I had been thinking about what kind of dog would be the best to choose. Often, therapy dogs are adopted from a shelter or the Humane Society. After a lot of research I decided that I wanted to get a young dog and the breed best suited for this endeavor would be a standard poodle. For those not familiar, this breed is known for many things, among them their intelligence and solid temperament. They don't shed and so are far less likely to trigger an allergic response in humans. I had never had contact with this breed, but from talking to others who had and with breeders, I decided to give them a try.
I did some more research and found a woman who had very young puppies and a few older dogs. She took great pains to make sure that her dogs were of the highest caliber, both in physical health and temperament. I spoke with her on the phone and told her I was looking for a therapy dog candidate. She told me she had a six-month-old black female that she thought would make an ideal therapy dog. I drove to her home and met Ella. Needless to say, Ella came home with me. This would be a true adventure. I had done my homework and read several books on training a therapy dog. In my previous experiences with dogs, the relationship in terms of their work was one of "human-commands-canine." In the world of therapy dogs, though, the partnership is different. It might best be described as  "human presents canine that interfaces with other humans." I believed I was ready for the challenge.
By the end of her first week at work, it was clear that Ella's impact on Dryden Flight Research Center would far exceed my expectations. Monique and I were honestly amazed. The reaction to even the idea of a dog at the center was immediate, wide-spread and almost exclusively positive. This was going to be a truly incredible journey—one I knew would be a challenge as well as a learning experience for all involved.  
I thought it would be a good idea to share this journey with others, and wondered if a blog might be a good way to do so. So many factors would be involved—Ella's impact on the employees, the employees' impact on Ella—and all of the challenges and lessons that surely lay ahead for Ella and me. I thought about all the ways that I could share the experiences leading up to the ultimate impact of one dog on a community of NASA employees. I decided that it was through her eyes that this blog might make the most sense. With what I was coming to realize is her patience-beyond-her-six-months-on-this-planet wisdom, I had a strong feeling she would blossom into this role which, for all of us involved, might prove to be life-changing.