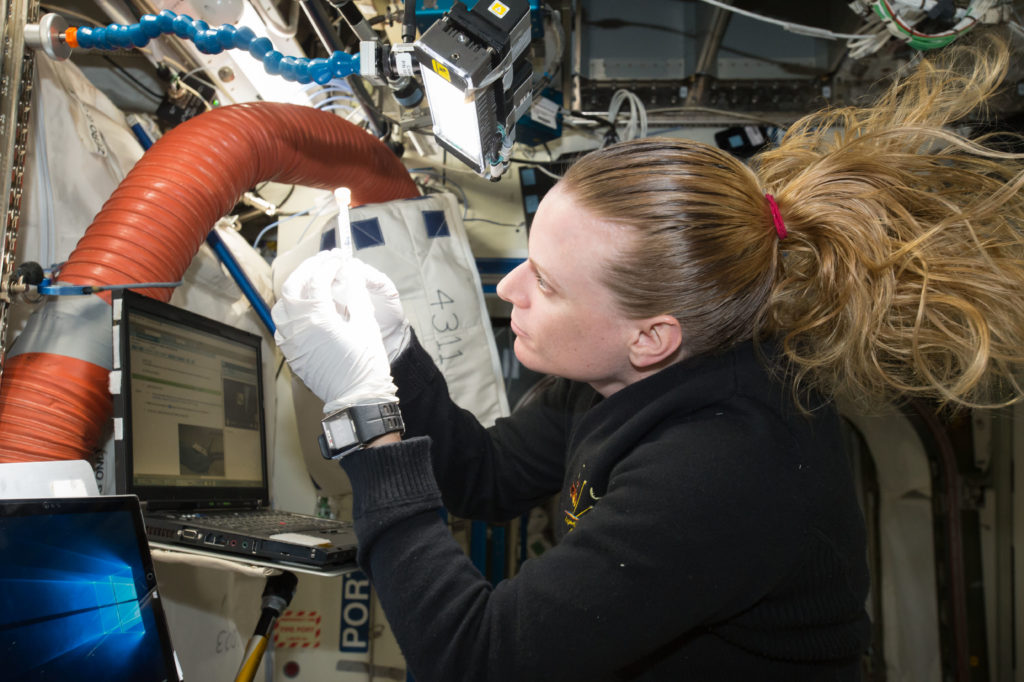 When NASA astronaut Kate Rubins' expedition began, zero base pairs of DNA had been sequenced in space. Within just a few weeks, she and the Biomolecule Sequencer team had sequenced their one billionth base of DNA aboard the orbiting laboratory.
"I [have a] genomics background, [so] I get really excited about that kind of stuff," Rubins said in a downlink shortly after reaching the one billion base pairs sequenced goal.
The Biomolecule Sequencer investigation seeks to demonstrate that DNA sequencing in microgravity is possible, and adds to the suite of genomics capabilities aboard the space station. Facilities like WetLab-2, miniPCR and Biomolecule Sequencer will expand opportunities for scientists to utilize the space station for cutting edge molecular research.
Aaron Burton, NASA planetary scientist and principal investigator, put into context the one billionth "base" mark.
"For reference, the genome of the virus DNA we sent up is 48,000 bases, the genome of the E. Coli DNA we sent up is 4.6 million bases, and the length of the human genome is 3.2 billion bases," Burton said. "So if all of the bases we sequenced were from the same organism, in principle, we have collected enough data to sequence the virus genome 20,000 times over, the bacterial genome about 200 times over, and about a quarter of the mouse genome."
Aside from proving the capabilities of the device, data from the sequencing experiments will also be deposited in NASA's GeneLab database, making them available for study by any researcher to re-analyze and potentially make new discoveries.
Read more about the Biomolecule Sequencer, and the game-changing first sequencing of DNA in space.
To keep up with research aboard the orbiting laboratory, sign up for our story listserv, or follow us on Twitter, Facebook or Instagram.