Astrochemistry. It's just not one of those subjects you learn about in most schools. Plenty of chemistry, check on the astronomy, the physics, the astrophysics, even the astrobiology. But astrochemistry? Now there's a NASA thing.
Buried in research in Goddard's Building 34 are scientists and engineers of every field you ever heard of – and a few you haven't. They can all be found roaming the halls and the universe here.
Working at NASA is rather like living inside a full-time geek fest. Snatches of conversation as you pass people in the halls may relate to the latest power outage or a favorite exoplanet – but more likely the latter. In a world that doesn't care all that much about space most of the time, NASA is like a haven where we can all wallow in our spaciness. Because after all, space is cool – no apologies necessary. We can talk about exploring the universe as if it were an everyday thing, because it is.
I came to Goddard by a somewhat unusual route. After graduating with my BS in Chemical Engineering from Rutgers University in NJ, I worked in the consumer products industry with Johnson & Johnson. After 8 years (and an MS in ChemE picked up along the way) I decided it was time for a change, so I picked up and went off to Strasbourg France, home of the International Space University. After an intense year of everything about space you ever wanted (or didn't want) to know, it was time for my ISU internship. One of my professors from ISU had completed a post-doc in Goddard's Astrochemistry Lab and thought it would be a good fit. So after a flurry of emails, here I am.
Credit:  Merryl Azriel.  Merryl mans the goo-generating system. 
Coming into an astrochemistry lab from a cGMP environment (a must for cosmetics, pharmaceuticals, and food, those ubiquitous FDA regulated products) was a bit of a shock. The lab whose motto is "we make dirt" is clearly not a cGMP type of place! But after a few days I got into the swing of things and have been thoroughly enjoying making some dirt of my own. I have acquired some of the tricks relating to maintaining a vacuum system that is continually stressed and learned some of the building phases as well. My supervisor has been incredibly supportive, encouraging me to develop and execute my own experimental plan as well as to take time to network and learn in the vast array of coffee talks and seminars available on a weekly basis.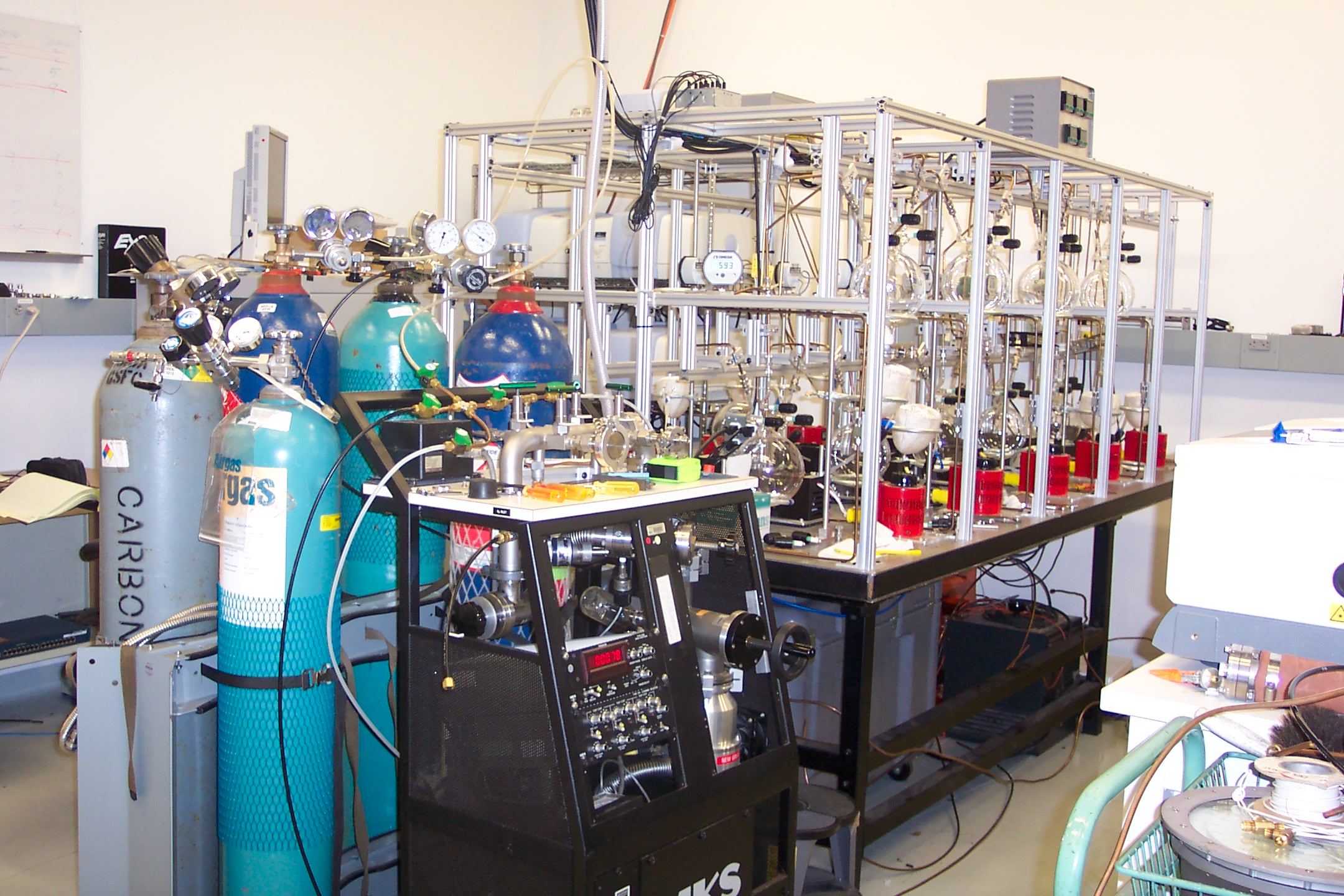 Credit:  Merryl Azriel.  The block of ten reaction vessels ensures Merryl never runs out of runs!
What's all this dirt about? The basic idea was developed a few decades back – that solar nebula dust can serve as a catalyst for the formation of amino acids, and maybe if you're lucky, the origins of life. This catalytic reaction can be mimicked in the lab by putting solar nebula dust analogs in a reaction chamber with a representative gas cocktail. Add a little heat and a day or two later you've generated some nebulaesque goo on your dust. That goo (and yes that is the official technical term used in the lab) can contain all kinds of carbon and nitrogen compounds of interest.  I run such goo-generating experiments, looking at new dust analogs in an attempt to gain some insight into the reaction kinetics of the process.
Half way through a summer that has whizzed by like the proverbial freight train, I spend my days messing with dirt, grumbling at leaky vacuum chambers, making strange configurations of copper tubing, and generally having a blast. Here's to Goddard!