My name is Andrew Tsoi and I am from the University of Colorado at Boulder. At school, I am a senior studying aerospace engineering. During the summer, I am an intern at NASA Goddard Space Flight Center. This is my fourth NASA internship at NASA and first being at Goddard. I spent my first three internships at NASA Langley Research Center, just three hours south of Goddard.
Goddard is very different from Langley. NASA Langley Research Center focuses primarily on aeronautics research. During my tour at LaRC, I studied wake turbulence modeling with Neil O'Connor, before working with the National Transonic Facility wind-tunnel during the summer with Rudy King.  Towards the middle of the summer, interns were given the opportunity to pose in front of a research aircraft wearing flight-suits, as seen below. LaRC was a very cool experience, but I wanted to get my feet wet in the space business, and Goddard has allowed me to do just that.
Credit:  NASA/LaRC
This summer, I have been working with Ben Emory studying the vibro-acoustics and structural dynamics of the upcoming James Webb Space Telescope and Magnetospheric Multiscale missions. It is my first experience where I can see firsthand how my work is impacting the people around me. It is also the first time I've been able to apply the extremely technical concepts I've learned in class to my work. For the first time, I'll no longer be able to complain, "I will never use this."
NASA Goddard Space Flight Center is a unique working environment. The center boasts over 10,000 engineers, researchers and scientists. In fact, it is the largest collection of engineers, researchers, and scientists in the world. My office currently sits in a hallway shared by the Electromechanical, Mechanical Systems Simulations & Analysis, and Optics branches. Interns will occasionally attend talks given by senior scientists and engineers, and learn about their work they've done here at Goddard. No two days are the same.
Although Goddard hosts keynote presentations almost daily, that doesn't mean interns are excluded from sharing their work. In early July, students were invited to present their work with the entire center, at what was called the "Intern Open Mic". I was selected to present my summer work in front of both interns and civil servants, as seen below. After presenting, I met another student named James Magargee who had just presented his work in carbon-nanotube testing, which I was familiar with because of an internship two years ago. We immediately picked up a conversation and began sharing our experiences.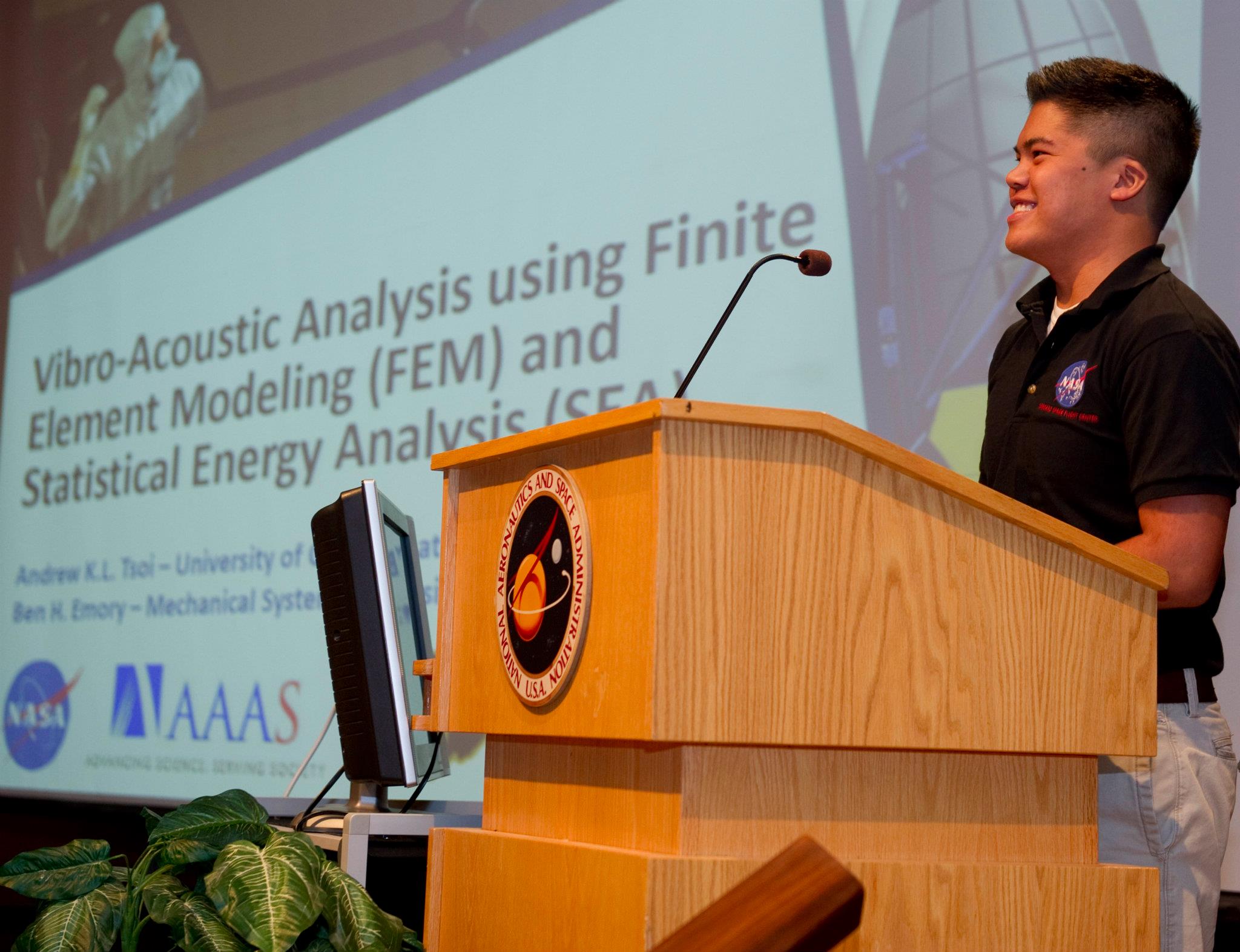 Credit:  NASA/GSFC
In addition to James, I have met a number of new friends both in and outside of work. Two I met on a center tour – Noah and Janet. As we embarked on a three-hour journey to see the Class-10,000 Clean Room and various other testing facilities at Goddard, we immediately knew we would become good friends. Our tourguide, DJ, was kind enough to snap a photo of us in front of the Thermal Vacuum Chamber.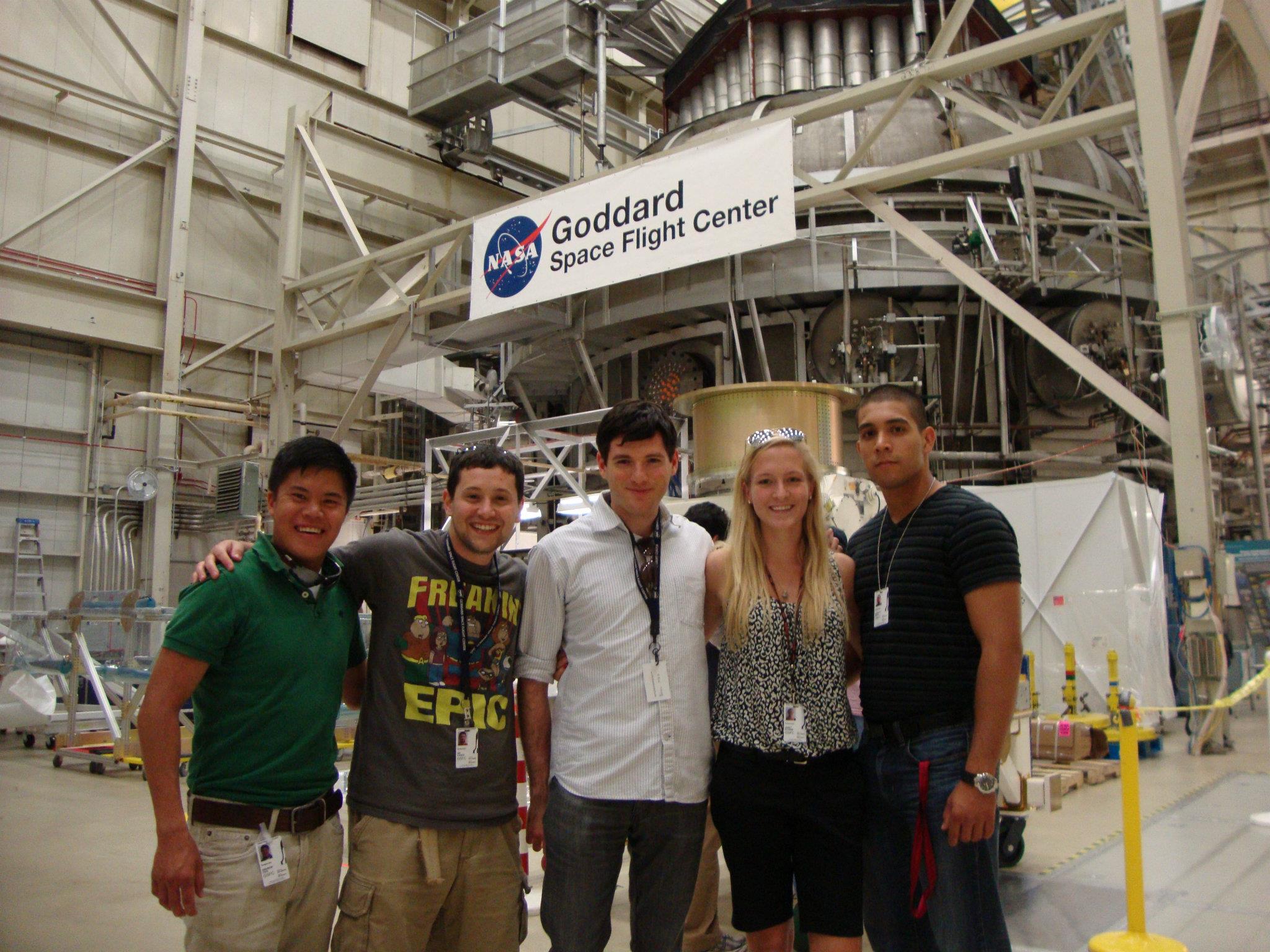 Credit:  Andrew Tsoi / DJ Emmanuel
Outside of work, we spend most of our time with other interns, and that's what I will remember most from this summer experience. We have gone to concerts, music festivals, downtown D.C., baseball games, epic get-togethers, movie premiers, and even to other states to visit old friends. Two weekends ago, a group of us drove down to the Dulles-Washington Airport to see the Udvar-Hazy Air and Space Museum. We all had to grab a picture. Ryan Hannahoe and I thought about sneaking past the rope to touch the Shuttle, but agreed it was best not to.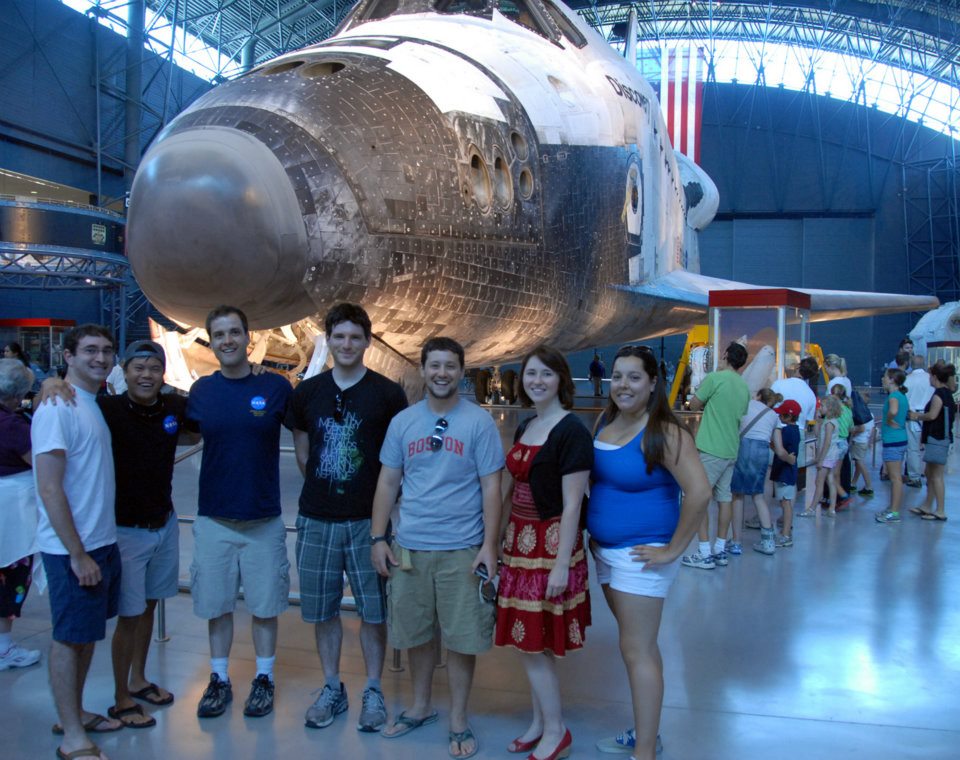 Credit:  Andrew Tsoi / Volunteer Stranger
The experience I've gained at Goddard is life-changing. The remainder of this summer calls for poster presentations, finishing assignments, and writing our final research papers. My work is stressful, but I could not imagine myself being anywhere else. Goddard is truly a special place to be, and I look forward to the remaining time I have here this summer.