The NASA Applied Sciences DEVELOP Program offers students the opportunity to intern under the guidance of NASA scientists to work on Earth science research projects that apply NASA Earth observations for societal benefit.
DEVELOP interns and science advisors at NASA Headquarters, Washington, DC.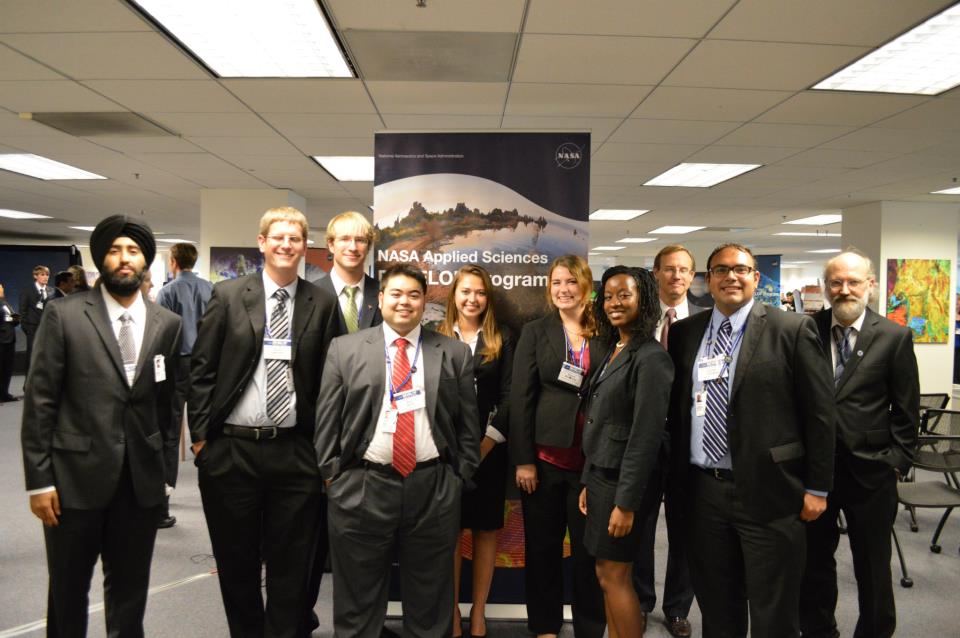 L to R: Harpreet Narang, David Spelman, Scott Cook, Paul Skym, Wanda Archy, Alyssa Mathews, Melissa Oguamanam, Fritz Policelli (science advisor), Luciano Rodriguez, John "EBo" David (science advisor)
Harpreet Narang
Hi, my name is Harpreet Narang and I was an intern this summer with the NASA DEVELOP National Program. This summer I worked with two other students as an alpha tester of a snowmelt model developed at Utah State University called the Utah Energy Balance (UEB) grid model. The UEB grid was developed to simulate snowmelt rates, which are responsible for erosion and flooding, based on an energy balance approach. We performed the task of gathering numerous input parameters along with processing and re-formatting them to comply with the model settings before initially testing the model. My experience at Goddard was one to remember as I got a first-hand look at how the science community is structured and how people interact with one another to complete scientific objectives. It really is a proud feeling to see your project come together and find meaningful results that can impact a community. I was also able to build many relationships in my time here, not only with my team but also with scientists as well. Working with NASA was truly a great experience, and I hope to get a chance to work under them again as a full-time employee.
David Spelman
I'm David and am a recent graduate from Florida Gulf Coast University in Environmental Engineering. I loved the opportunity to learn new things related to my field of study and work with the wonderful DEVELOP science advisors at Goddard. The atmosphere of the workplace was perhaps the best part: amazing opportunities to network and learn new things. I really hope that I get a chance to come back again!
Scott Cook
This summer has been a great learning experience for me. Last year I participated in NASA's DEVELOP Program and I was fortunate enough to come back and continue working at Goddard. I would have to say that the best part of this internship is the people I am able to interact with. The DEVELOP Program has always assembled teams with great dynamic. We are not only colleagues, but friends. Our advisor, Frederick "Fritz" Policelli is phenomenal and more than willing to roll up his sleeves and work hard with us when there are problems. On a more technical note, having access to super computers, information, data, and 8,500 employees that share a similar passion for STEM has definitely added to this summer's great experience.
Paul Skym
My name is Paul Skym. I am a recent graduate from the University of Maryland, College Park. I received a Bachelor of Arts in Government & Politics and a Bachelor of Science in Geographical Sciences with a specialization in Geographic Information Systems (GIS) and Computer Cartography. Currently, I serve as the Project Lead for the Upper Missouri River Disasters team for the NASA DEVELOP National Program here at Goddard Space Flight Center (GSFC).
My project specifically aims to use remotely sensed data Tropical Rainfall Measuring Mission (TRMM) in replacement of in situ ground gauge data as one of the main input parameters into a hydrological model that could forecast floods in near-real time. I must admit, I feel like I have re-learned how to learn. Although I had no aspirations for graduate school, working this internship at GSFC has made me reconsider. GSFC has taught me that no one ever stops learning.
Working at GSFC has been one of the most positive experiences in my life. The environment is one that everyone can take advantage of. At GSFC, I have had the pleasure of meeting the most interesting people ever, including GSFC Director Christopher J. Scolese, GSFC Deputy Director Arthur F. Obenschain (everybody calls him Rick), and Assistant Director for Operations, Earth Sciences Division Jack E. Richards, just to name a few. I love GSFC's attitude towards finding success in life. Only at NASA is failure a legitimate option, in the short term. I had the pleasure of meeting former NASA employees at one of the monthly retirement meetings. Specifically, I remember Mr. Dick Clark telling me, "Don't be afraid of failure, embrace it. That's how you learn, that's how you find success." This specific conversation will resonate with me for the rest of my life and I have GSFC to thank for that. If you are even slightly considering the possibility of working for NASA, especially GSFC, I say just go for it, you will not regret it.
I would like to thank everyone at the National Program Office of the NASA DEVELOP National Program, my science advisors Dr. Dimitar Ouzounov and John David, my mentor Fritz Policelli, my Center Lead Melissa Oguamanam, and most importantly my team members David Spelman and Luciano Rodriguez for working hard with me this summer to make this a rewarding opportunity.
Wanda Archy
Working at NASA GSFC as a DEVELOP intern has been an amazing experience. I had the opportunity to work with DEVELOP national projects aimed at improving Earth science policy as an Earthzine liaison. Through the Institute of Electrical and Electronics Engineers (IEEE), Earthzine is an online magazine that publishes articles and news about the latest in Earth observations. I was able to attend conferences, conduct interviews, give presentations, network, and most importantly, get the overall NASA experience. Throughout the summer I wrote technical articles for the IEEE's online publication covering a variety of topics: satellite systems, disaster management, new technologies, and climate change. DEVELOP also gave me the opportunity to apply for and receive the John Mather Nobel Scholar Award.
Alyssa Mathews
My name is Alyssa Mathews, and this summer I have been a DEVELOP intern at NASA GSFC.  I just graduated from Stony Brook University with a degree in Atmospheric and Oceanic Sciences, and I'll be attending Rochester Institute of Technology in the fall for a Master's degree in Environmental Science.  This summer I was part of the Southwest Water Resources Team, studying snowmelt in the Upper Green River Basin in southwest Wyoming. My team has been using remotely sensed data to be used as inputs for the Utah Energy Balance Model, which forecasts snowmelt.  We are hoping that in the future, this model will be able to be globalized, and used in conjunction with flood prediction models.  This semester, we focused on gathering and processing the data so it could be in the right format for the model.  We used meteorological data and GIS data.  This was an interesting project because it used meteorology with computer science in order to work with a forecasting model directly, which is something I had never done before.  I worked with really great people, both in DEVELOP, and at Goddard.  Overall, this is definitely a summer to remember.
Luciano Rodriguez
My name is Luciano Rodriguez and I am from Chapman University in Orange, CA.  I am a second year graduate student studying Computational Science.  This is my first NASA internship and I hope there will be more.  This summer I have been working in the DEVELOP Program with Frederick Policelli, Dr. Dimitar Ouzounov, and John David modeling the CREST model for flood forecast in the upper Missouri River.  It has put many of my educational years in practical use to the community, which is one of my goals in life. The atmosphere with my colleagues and science advisors has allowed for great collaboration about our model and its future. DEVELOP has allowed me understand the research and presentational aspect of the current workforce.  They also gave me the opportunity to keep myself informed of the latest events happening in NASA as well as communicate with retired scientists at Goddard to discuss their contributions to the world and community.  Overall, it has been a great experience, and I look forward to future collaboration with my colleagues.  
Melissa Oguamanam
My name is Melissa Oguamanam and I am from Baltimore, MD. I recently graduated with a Master's Degree in Geographical Sciences from University of Maryland, College Park. I am very grateful to have had the opportunity to intern at NASA Goddard Space Flight Center through the DEVELOP Program. This amazing experience involved working with top NASA Earth Scientists, attending numerous space seminars, and meeting fellow interns who have the same passion for Earth science as I do. One of the benefits of the DEVELOP Program that I appreciate the most is being able to collaborate with NASA scientists to examine various environmental issues using geospatial technology that can have large impacts on improving communities.
For more information about DEVELOP, please check out the website here: http://develop.larc.nasa.gov/