Several years ago, I was determined and ready to buy a new vehicle.  I happened to be at my grandparents place at the time in upstate New York and my grandfather saw me perusing the local paper for dealerships making good deals.  I told him that I was interested in getting a new pickup truck, something that I could use to go back and forth to grad school and carry all my stuff.
"Well, I'll tell you what," he said, "the best darn vehicle I ever had was a 1937 Ford Pickup.  That thing just ran forever, it seems to me."  Then he winked, smiled, and added, "And, even better, I met your grandmother while I was driving that thing."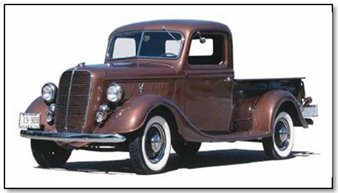 So I went on down to the local Ford dealership and announced to the salesman wearing a plaid jacket and striped tie that I wanted to buy a pickup truck.  My new best friend smiled a huge smile, shook my hand, and led me over to the part of the showroom dedicated to their latest line of beautiful F-150s.
"No, no," I said, "I want to buy a 1937 pickup."
"But we don't sell used cars here, son, and certainly not classics like that."
"I don't want a used 1937 pickup," I replied.  "I want a new 1937 pickup."
"There is no such thing," he said, in an obvious state of confusion or maybe annoyance.
I scratched my head.  "I don't understand.  I mean, you guys still have the drawings and such, right?  And if you can build these big, shiny new things, then you can certainly go back and build something more simple, right?  My granddad told me not to get suckered in.  He said that I don't need all these new-fangled bells and whistles."
For the next hour, the salesman, named Pete by way (Pistol Pete, he chuckled to himself), tried to talk me into buying one of the current year models.  He showed me everything, explaining with fast-talking expertise the dramatic advantages that his trucks had over the competition and even, he tossed in for me, far older models.  But I was not totally convinced.  Pistol Pete just shrugged and gave me his business card with a scribbled phone number for someone at their corporate headquarters who might be better able to help me.  I left thinking that might have just lost the best friend I'd had for the last ninety minutes.
The next day, I called the corporate headquarters and tried to make clear what I wanted.  I got bumped from department to department several times until I finally got someone named George seemingly willing to indulge me. 
I told George what I wanted, but I also told him that I was impressed with what Pistol Pete the salesman had shown me.  I said, "I'd really like to get that 1937 pickup with an automatic transmission, with overdrive, and cruise control.  I would really like more speed and better handling.  Better gas mileage too.  Also, I'm thinking that I need more safety stuff, so I'd like that pickup to have air bags, modern crushable bumpers, and the latest auto glass.  Plus, I'd like a bit more life and reliability, so building in that self-diagnostic system and computer would be good.  And I read that some new body materials are less prone to corrosion, so build it out of new stuff."
"So," said George, who sounded perpetually half asleep when he spoke, "you want a 1937 pickup truck, with all modern features, built to all modern standards, with more performance, with better reliability, and with greater safety.  Do I have that right?"
"Finally," I said, "someone who understands!  You've got it!  That's exactly what I want!"
"Right, then we will have to design you a new vehicle from scratch.  That will take about two years of design effort, building a few prototypes, and then another couple of years of road testing and then certification from the federal highway authorities — which, by the way, will result in a bunch more changes unless you only want to drive it on Sundays and holidays like an antique car.  Overall then I'm projecting that we're talking, maybe, forty or fifty millions dollars as a starting point."
"Huh?  What are you talking about?  That's outrageous," I yelled into the phone in dismay.  "You built this thing 50 years ago, didn't you?  It didn't cost that much then for goodness sake, even with inflation.  Surely you've got the drawings just lying around somewhere, right?"
"No, actually we don't," said George in his tired monotone.  "And even if we did and we had to build exactly a 1937 pickup, as it was built back then, it would be a project.  To start, we would have to rebuild all of the tooling, recreate the materials we used back then, and reconstitute suppliers who have long since gone out of business.  Add to that all of your new requirements and, well, you've got a whole new vehicle, right?  So, basically, we'll just have to start from scratch."
I hung up the phone in an utter daze.  Several weeks later, I bought a little Toyota pickup.  I drove it for lots of years.  I plan to someday tell my grandson that it was the greatest thing ever on four wheels and see where that leads…
One of the first questions that I got when I started this blog was why we didn't just dust off the drawings of the old J-2 used for the Apollo Program and use that rather that launching into the J-2X development effort.  Hopefully this little story provides a bit of insight by way of analogy.  As we go along, I will tell you about the actual changes between the Apollo-era J-2 and the J-2X of today.