Pssssssst.  Come over here.  Yes, you.  Come on.  Right here.  Lean in real close because I've got a secret to share.  A little closer.  Are you ready?  Okay, here it is: rocket engines are complex machines with lots and lots of pieces.
Well, maybe that's not much of a secret.  Maybe that's just about as much of a secret as, say, "water is wet."  But what might not be known too well is how many different people get involved in developing and building a new rocket engine.  Sure, the NASA office is located here at the Marshall Space Flight Center in northern Alabama, and the facility of our prime contractor for J-2X, Pratt & Whitney Rocketdyne is located in Los Angeles, California, and our engine assembly and test facility is at the NASA Stennis Space Center is southern Mississippi, but we engage more of the country than just those three key locations.  The J-2X development effort has 362 different suppliers and vendors in 35 states and 4 in other countries.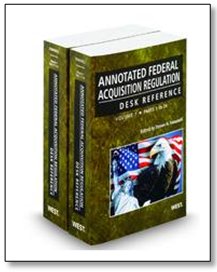 Now, we here on the NASA side don't chose the suppliers for this project.  We sometimes get involved in okaying a supplier for various reasons pertaining to regulations (blah, blah, blah…snore…zzzzzzz…for a really good time, sit down and read the Federal Acquisition Regulation!), but it is primarily the job of our prime contractor to figure out what is needed and to hire appropriately.  It's just like having a general contractor if you were building a house.  They have connections and know who best to call for the plumbing or the roof or the tiling in the bathroom.
So, we don't pick 'em, and we certainly don't endorse anyone over anyone else, but when a company steps forward and does a whiz-bang job for us – and therefore for our space exploration mission – I think that they deserve "atta-boy" recognition.  Much earlier in this blog series, I included a picture taken at the facility of Cain Tubular Products in St. Charles, Illinois.  They are a relatively small company that supplies our heat exchanger coils and they've done a whiz-bang job for us.  We have other suppliers that are Fortune 100, multinational corporations like, for example, Honeywell International that provides the J-2X engine controller and several of the valve actuators.  They too generally do a whiz-bang job for us. 
So, here I'm going to shout out an "atta-boy" to another supplier…
Omni Electo Motive Inc. is located in Newfield, New York just outside Ithaca (beautiful country up there).  To give you a general idea of what they do, I will quote their website: "Omni Electro Motive Inc. is one of the world's premier independent manufacturers of custom manufactured gas turbine blades and vanes for jet engines and gas turbine industries." 
Well, okay, but it is not only jet engines and gas turbines that have turbine blades, so do rocket engines.  As I've discussed before, the power of the engine comes from the power of the turbopumps.  The turbine blades are small airfoils that convert the power of flowing hot, high pressure, high velocity gases into rotational power.  Thus, they are a key component of the engine.  Between the two turbopumps, the J-2X has over 300 turbine blades.  Below is a picture of some turbine blades prior to assembly into the J-2X fuel turbopump.  Each blade is fits snugly like a glove into a disk connected to the rotating shaft of the turbopump so that only the airfoil section is exposed.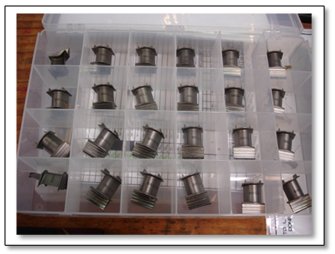 These turbine blades not very big (easily fit in the palm of your hand), but they need to be exceedingly well made.  They see extreme environments and undergo extreme loads during engine operation.  In essence, they need to be as flawless as the finest jewels.  That is why it takes a specialized supplier like Omni to do the job.  However, more than just providing excellent products, Omni has engaged with the J-2X development team on the design side through multiple design iterations.  The application of their extensive experience in this specialized field has been positively vital to our success.
Below is a picture of Omni Electromotive Inc. President, Frank Deridder (on the right), receiving a Supplier Appreciation Award from the Pratt & Whitney Rocketdyne J-2X Program Office.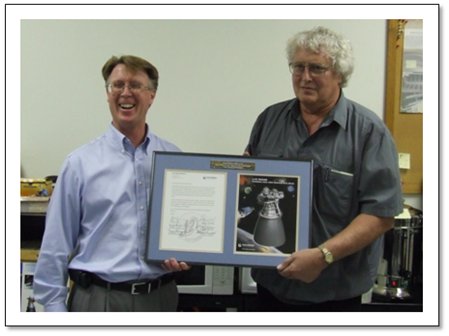 Thank you very much guys for your dedication and for your commitment to excellence.  "Atta-boy" and keep up the good work!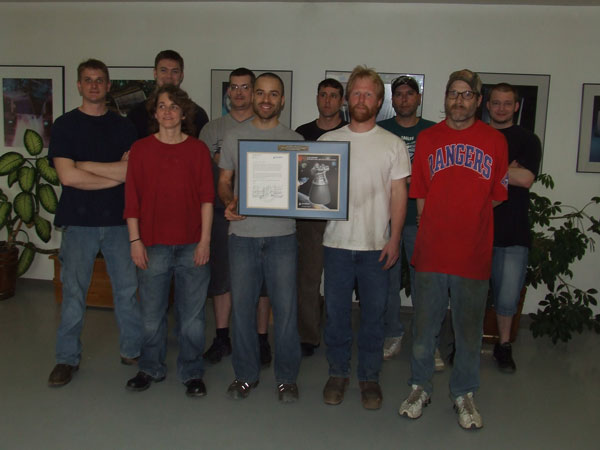 Front Row, From Left to Right: Holli Maneval, Adam Kellerson, Donald Koski, Mark Clauson.
Back Row From Left to Right: Ray Hornbrook, Matthew Oelkers, Brian Card, Jamie Brooks, John Case, Steven Vallimont