I am at the Bayou Regional FIRST robotics competition and am amazed at the NBA atmosphere of the event.  Filled with everything from the bleacher stomping "We will Rock you" to the sound system that gives you a second heart beat and team mascots cheering on the adrenaline filled crowds.  A bunch of wanna be engineers along with scores of families and friends that are excited by the 6 robots battling out to score the most points by kicking a soccer ball into a goal.  Today these future engineers and scientists are the rock stars of the Alario Center in New Orleans.  My hats off to the Stennis Space Center for their support of an outstanding event and inspiring our next generation.
There is much talk about the lack of a destination and how we need one to inspire our future generations but I think there is much to be said about making science, technology, engineering and math fun. Watching this crowd I think more will be inspired by their achievement in making a robot that will go to the national competition than a Mars mission by the end of this decade.  Yes there is a place for a destination but that is not the only way we can inspire.  We should not underestimate the power of mixing education with entertainment to attract our future workforce.  I know some will say that I've gone to the "dark side" but then again how many of us were attracted to the world of engineering because of the creations of Lucas and Roddenberry?
Edutainment cannot only inspire but it can also educate the world about the scientific and technical advancements we are making. Even though many are inspired by the amazing images from our technical achievements like the images from Hubble, engineers are not the best ones to share our discoveries and educate the public of our discoveries.  Just ask my family.  My thespian daughter can weave a tale that will keep us engaged throughout dinner while my tales may last through desert.  I like what Will Pomerantz , Manager of Google Lunar X-Prize, recently shared in his blog about the power of mixing the entertainment industry with our engineering discoveries, "Scientists and Engineers have fundamentally important and exciting things to tell the world about–but are ill suited to do the telling. By working together with entertainers, they hope to play to each group's strengths, with the end result of conveying the key messages to an audience in an understandable way. To that end, the National Academy of Sciences is organizing events like last night's salon, and even offering free scientific consultation to film makers and other entertainers who want to improve the scientific accuracy of their products."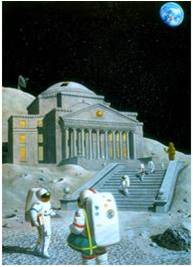 I believe it will take artists, entertainers, writers and the left brain people of the world to create the stories that will inspire and educate our nation.  It is images like the one at the right, from an artist that I continually get my inspiration from, Pat Rawlings, that will inspire a future entrepreneur to create the first Ivy league campus on the moon or for us Texans, a Texas A&M satellite campus near Tranquility base.  What engineer wouldn't want to be part of this cathedral building project? 
What if we not only used robotics but video games as well? What are the other possibilities to inspire if we mixed NASA's discoveries with the world of entertainment?   
Sharing the Vision,
Steven González, Deputy, Advanced Planning Office