Ye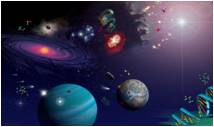 s, I'm a glass half full kind of guy (and the only reason it is half full is because I already enjoyed the first half).  Recently I took a "change style indicator" assessment that captures a person's preferred style in approaching change.  The range includes those that are Conservers, Pragmatists and Originators.  I was not surprised to find that I was way over on the Originator side, the side that is more comfortable with change. 
Therefore when I look at 2010 I am excited by the change that is ahead of us.  2010 ends one era, with the completion of the Shuttle program, making room for the next generation of space vehicles.  Yes, the Space Shuttle is an awesome vehicle.  Its capabilities are unmatched and it has served us well over the past 30 years and now it is time to extend our reach.  Now that we have our orbiting International laboratory, it is time to leverage it to enable us to reach new destinations like an asteroid, Lagrange points or even to the moons of Mars.  But it is not just the possibilities of a "flexible path" to extend humanity's reach to Mars and beyond that is exciting about this coming year.  There are also other changes in the environment that marks us fully entering a new era in Space Exploration. 
This month we saw Richard Branson unveil his latest vehicle, the "Enterprise", in the midst of a windstorm in California's Mojave Desert.  The latest Enterprise vehicle is worthy of the name since it will be the first commercial vehicle to take more people closer to space.  We also will see this year the launch of the Falcon 9 launch vehicle and get another step closer to commercial cargo access to the International Space Station.  Internationally we will see the first module of the Chinese Space Station, Shenzhou-8, being launched and connected in the future to Shenzhou-9.  Therefore soon we will have two orbiting laboratories in space and some speculate that this will also be an International Space Station with the partners including Iran, Pakistan and possibly North Korea.  Even though this partnership in space could cause some to be concerned, I am reminded of how NASA's presence in space has created friends out of old enemies.  If it could happen before then I believe that space will allow us once again to create new alliances. Pollyanna?  I don't think so.  The recent announcement of how NASA is inspiring Muslim students in the STEM (Science Technology Engineering and Math) fields through a collaboration with the Arab Youth Venture Foundation in Abu Dhabi is once again a demonstration of how the agency can bring the world together. In space there are no borders and NASA has continually demonstrated through its exploration programs and inspiration that it exists for the benefit of humanity. 
So get out your sun glasses because 2010 will be bright with the glow of humanity reaching collectively to the stars.
Sharing the Vision,
Steven González, Deputy, Advanced Planning Office