Sept. 2, 2011

TGIF! It's interesting to note the exact figure of speech is common in Russia. Guess it's sort of a universal sigh of relief — a reference to the end of the work week and the start of a weekend. We never get very far from the office up here, but do look forward to weekends as a chance to clean up the leftover messes from the week, catch up on some sleep, and complete some personal projects.
We've been on a bit of a roller coaster ride up here since the failure of the Russian Progress launch last week. Future launches of cargo and crew using the same rocket system are on hold pending the completion of the failure investigation and fixing the problems.
American Ron Garan, and cosmonauts Andrei and Sasha were scheduled to go home on Sept 8, but their replacement crew (American Dan Burbank, and Russians Anatoly and Anton) will not be launching until November at the earliest. In order to minimize the amount of time with only 3 crewmembers on board, Ron's crew was told they were extending their stay until late October.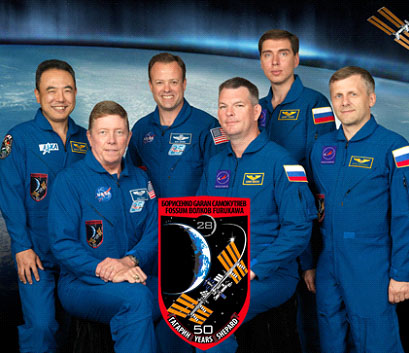 Of course he's not stranded up here (although he might be feeling a little trapped living with me). We also recognize this would have a huge impact on the entire Exp 28 team as they go into extra innings after 4 months of hard, dedicated work. In the midst of this turmoil, we had some weekend time on our hands and decided to have some fun with Ronnie's plight.
As with many details in these dynamic times, plans changed again and now they are only extending a week. Ron won't believe he's going home until he feels the wind on his face and breathes deeply the wonderful smells of his favorite planet.
Hope you enjoy the video!
Have a great Friday and enjoy a long weekend ahead!
https://www.youtube.com/watch?v=Uk9ptueTDwY
Living the Dream!
-Mike Fossum
 ISS 28/29
.