Sometimes you have good days and sometimes you have bad days.  There are two things about those bad days.  First, bad days make good days seem even better!  Second, they are trials that prepare you for things that happen in life – they make you better.  As you look backwards on bad days, these lessons always seem clear.  Wouldn't be great if we could look forward to them or at least learn these lessons in real time?  It would make you almost embrace these so-called bad days. 
I was in Boston this week, attending the NASA Integrated Services Network (NISN) Forum.  I was having a leadership conversation with Tereda.  I'm not sure if she realized it, but we were having a discussion about one of the executive core competencies of the Federal Government Senior Executive Service: Resilience.  Resilience deals effectively with pressure; remains optimistic and persistent, even under adversity and recovers quickly from setbacks.  We discussed those setbacks and moments of adversity that make you a stronger and more effective leader.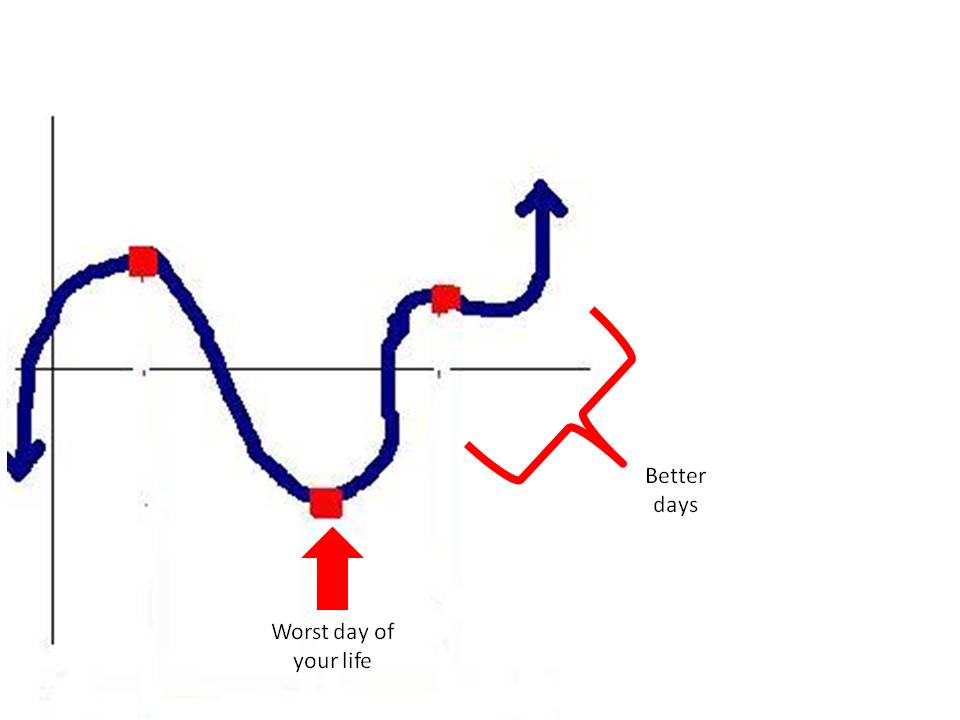 I remember a day of adversity as a teenager – December 26, 1975 – I had what remains to be the worst day of my life. Now, realize, this is by teenage girl standards, but even as I have increased in age and experience, relatively speaking … this was pretty much still the worst day of my life.  Picture this: the Washington Redskins are playing the Philadelphia Eagles.  Teenaged Linda and trumpet player turned French Horn player gets a lead from recently dumped boyfriend on an opportunity to play trumpet at the half time game. Teenaged Linda gives the only answer that an up-and-coming Redskins fan could give.  Yes.  It snows; lips stick to mouthpiece; Redskins lose; cute under-dressed teenager needs to huddle under blanket with former boyfriend for survival.  I look in his eyes as he looks into mine, and I hope file this memory away for the rest of my life as the worst day of my life – my worst day ever.  Happily, this day continues to be a benchmark that helps to motivate some of my executive resilience.  I only wish that I could recognize those days sooner.  If I could, perhaps look forward to those bad days, and then they wouldn't seem so bad. 
As I checked the flight status of my return trip from Boston Logan to BWI.  It was foggy and stormy in Baltimore and Boston.  Our flight was delayed.  I have a pretty bad cold and feel bad.  Hum…I think I am getting ready to look forward to one of those bad days.   So, I was jazzed up … nothing but "better" stuff could happen after a "bad" day.  When I finally got home in my own bed at nearly 2:00 am, I reflected that this turned out to be an amazing day with the most wonderful experiences.  Let me share a few.
Beautiful Sunset.  I met Dean.  He works on the NASA/Goddard's James Webb Telescope project.  He introduced himself and offered me a flat chocolate pancake.  He said to me that he met me before, but I probably don't remember him.  I told him it didn't matter because we were about to have a fun evening together and I wouldn't forget him.  He was leaving on a flight the next morning at 5:40 am heading to Orlando to catch a cruise.  I was so happy for his great day because he would make his cruise and even with no sleep, he had a good 10 hours of slack in his schedule to make his launch.
Spectacular Sunrise. Then my Deputy Dennis was talking to someone who seemed to be a delightful NASA veteran.  He had been with NASA since 1961.  Dennis was happy that they had a lively conversation.  I think that by the time we took off, their conversation may have been up to the 1980s.  I never knew the man's name.  But he had a hair full of gray hair.  He lives in Ocean Pines, MD.  I pretty long drive from BWI Airport.  He's getting ready to have one of those bad days.  Then, he talks to himself and makes a decision.  He will stay at Kent Island and wake up to watch a beautiful sunrise over the Chesapeake Bay, then drive the rest of the way home.  He was getting ready to have a great day.
The Moon and the Stars. Finally, our plane arrived.  A plane load of full of people broke into spontaneous applause.  Yes, this was indeed a great day.  We boarded and I had the prophetic insight to upgrade to business class, so I looked forward to a very comfortable pleasant flight. 
I sat next to this old man with a familiar spirit.  He reminded me of my grandfather.  He ordered a Tanqueray and ginger ale.  I ordered a chardonnay.  I made sure that my bag didn't take up his leg room and gave him some advice about his tray table.  Later, I put on my headset and turned up the volume on my iPod and looked out the window.  There was heavy cloud cover and the reflected moonlight was beautiful; the starry night was enchanting.  I always loved the moon and the stars. What a stunning night.
As we landed and prepared to leave the plane, I smiled at the familiar grandfatherly spirit that kept me company.  He took down his roll-aboard and I spied his name tag – Kumar.  Wow!  Could it be my old Astronomy Professor? I seized the moment and excused myself and asked him if he was a physics professor.  He said, he used to be one but he is retired.  I asked him if he taught at Howard University.  He smiled and said yes.  And I told him that he was my Astronomy Professor at Howard University.  He left the plane and he waited for me.  As I managed myself off the plane, I remembered another close call for the "worst day of my life".  He was in it.
When I caught up with him, I told him I had to tell him a story.  In his Astronomy class, he asked the class if we understood the movement of the tides and the relevance of the position of the moon, sun, and Earth.  Everyone nodded with feigned understanding.   Then, to my terror, he gave me the chalk and said, "Young lady, explain it to the class." I said ok, and then shocked him with an explanation that was almost as good as his.  My classmates came up to me and said, "Girl, you did good! Glad it was you and not me!" I didn't expect him to remember, I just wanted him to know I did.  Well, he said he remembered. This was 33 years ago. 
Then he said to me, somewhat apologetically, but not really, that they were intentionally hard on the science and math students at Howard University because the pressure and the trials would make them better in their life and their careers.  I survived that bad day and came away from his class loving the moon, stars, sun, tides, and our Earth.  But, I never knew how great that day was until last night. 
I finally got home at almost 2:00 am.  Congested, feverish, and tired, I lay in bed and said my CIO prayers.  I think this bad day may have been one of the best days of my life.  I look forward to my next bad day.  I had sweet dreams that night.
Linda Cureton, CIO, NASA/Goddard Space Flight Center