I must admit that I've always had a problem with time. I hate time actually. Colleagues who know me well will laugh out loud when they realize that I had the audacity to write about Time Management. I guess those who can … do; those who can't … well, they blog about it.
I noticed a phenomenon when I first came to NASA's Goddard Space Flight Center called Goddard Time. I thought maybe I came to a place of kindred spirits, but what it actually referred to was the outcome of the pesky habit of scheduling back-to-back meetings not recognizing that many folks have to jump in a car and race (while safely obeying speed and traffic rules and avoiding pedestrians and bikes) across the Center. Then I lost my last shred of hope when I heard the then Center Director, Dr. Ed Weiler, admonish those proposing innovative solutions to not give him a power point on time travel or warp speed. Rats!
As a fan of the John C. Maxwell books on leadership, I recognize the important of self-management in dispensing my duties of a leader. I've taken just about every time management class I could.  I even have an unused Franklin Planners to help me.  I love watches – I have a ton of them; several Movados which don't even have numbers on the faces. But, I think of watches as fashion accessories and not as anything of value to me. And people keep giving me devices to measure the passage of time, but hardly any of them operate. I counted them one day – I have nine (see them for yourself here) – but only three of them work (pictured here).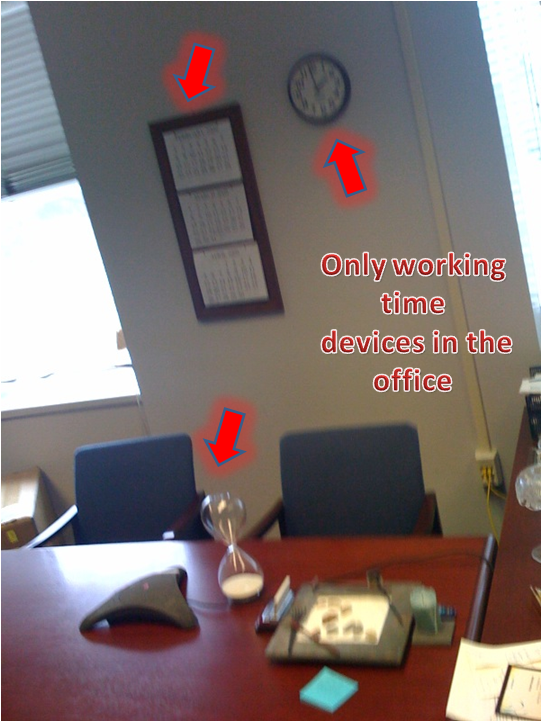 A friend of mine told me that my problem is that I don't believe in time and I don't like it.  Well, she is right I don't.  Time Management is an oxymoron.  Time is finite and constant; it doesn't grow when you manage it well or compress when you don't (though time travel and traveling around the speed of light sounds like it might have potential). Here are some more attributes of time that are irritating to me:
Time is Never On Your Side. The Rolling Stones tune was wrong by saying "time is on your side".  As the song ends, it emphasizes this over and over, then … repeat and fade.  Finally it ends and you are out of time. Good leaders should not delay decisions. They just make their decisions and move on.  Furthermore, these difficult times call for making decisions with incomplete information and with ambiguity. The need for rapid decision-making while battling your enemy called time is a critical leadership attribute. And you've got to do it before the music stops.
Time Flies When You're Having Fun. There's an old joke that says something like … scientific studies show that married men live longer. But it's not really true, it just seems that way. So does this mean the secret to having more time is to have less fun? Well, some scientists suggest that this is the case.  A study by two scientists Chaston and Kingstone may have scientifically proven that time indeed appears to speed up when you are having fun … or at least when your attention is engaged. One of Maxwell's key leadership qualities is focus.
To have passion, to have a dream, to have a purpose in life. And there are three components to that purpose, one is to find out who you really are, to discover God, the second is to serve other human beings, because we are here to do that and the third is to express your unique talents and when you are expressing your unique talents you lose track of time. – Deepak Chopra
When compared to focus, passion, and purpose, time is an irrelevant artifact. The sharper your focus is the sharper you are as a leader.
Time in a Bottle. What if you could time in a bottle and save it? Then you could go back and do the things you never got a chance to do.  Jim Croce sang it best:
If I could save time in a bottle
The first thing that I'd like to do
Is to save every day
Till eternity passes away
Just to spend them with you
Well, you can't put time in a bottle, but what you can do is do the things that are most important … once you find them. You make your decisions, focus on the outcomes, and get those most important things done first. Then as the song goes, you repeat and fade … until time's up and the music stops.
Linda Cureton, CIO, NASA/Goddard Space Flight Center