My first blog of the New Year was supposed to be about looking forward.  It was supposed to be about plans, hopes, goals, and ambitions.  I planned to pen that blog this weekend.  However, I got diverted into family obligations related to celebrating my grandmother's 96th birthday.  I made her favorite Sweet Potato Crescent Rolls and Baptist Pound Cake.  It was about Fried Chicken and Macaroni and Cheese.  Yes, I would do my blog later.  Yesterday was all about Mama.  She died today.
The NASA CIO blog is about leadership, technology, and innovation.  This one will be easy to write.  I will tell you what I learned about leadership, technology and innovation from my grandmother.
Expert communicator.  My grandfather was stationed in Germany twice and my grandmother learned to be a great communicator in German.  While we were in elementary school, she taught us little niceties to say in German.  She was also fluent in sign language.  We used to joke that Mama didn't let the fact that you couldn't hear her to keep her from talking! She was able to rise above most communication barriers and be a great conversationalist.
Creative.  Mama could crochet, knit, sew, and do needlepoint.  She could also do ceramics.  She taught this lefty how to crochet left-handed and how to knit right-handed; and most of all, how to use a pair of right-handed pinking shears. 
Resourceful.  She could do dry-wall, plastering, plumbing, shoe repair, masonry, and basic auto mechanics.  She could heal any boo-boo and I still believe that she could do minor surgery.  My sister Lisa and I were cleaning out her closet and found spike heel patent leather shoes and a battlefield dental repair kit.  Somehow that was related, but we couldn't quite figure out how.
Courageous. She was brave.  I saw her go up against a pit bull … and win.  I was in the car with her as she got pulled over by MPs speeding in an Alpha Romeo … she won.  Pictured here, she was alone as a minority and President of the Officer's Wives Club – a first.  In a foreign country, learning the language, she stepped up to the task.  I saw fear in her eyes and I saw her courage.  Oh, and she made her dress and gloves.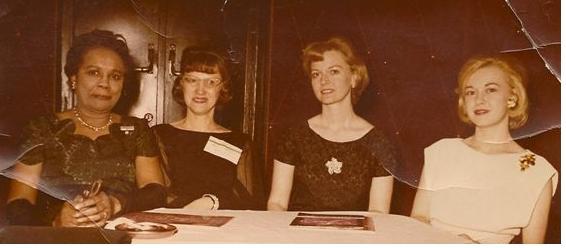 She raised a daughter who was a marksman who raised a daughter that was a CIO.  I'm sure that's related too, but I can't quite figure out how.  Technology, fruit trees, things my mother taught me about being a CIO … my grandmother was always there. 
My last conversation with her last night was about technology and the Consumer Electronics Show.  I told her and my grandfather about how grandparents could stay connected with their grandchildren through text messaging and the new PDAs.  Mama liked it.  My grandfather seemed unimpressed.  She was tired and went to bed.  She didn't wake up. 
I started writing this blog thinking about my loss.  I finish it thinking about what I gained – my grandmother Corona.  Her name means crown.  Her DNA is inside of me and I adorn her leadership qualities upon my head.  Tears fill my eyes as I honor her by signing my name using her nickname for me.
Linda Cureton (Toot), CIO NASA