At the NASA IT Summit, Gartner Analyst David Cearley announced that it is 1981 again and the PC era is over! What an amazing declaration.  Well, I loved David's statement.  In 1981, I was on my first short tour at NASA.  I also met my beloved friend Stephanie and a beloved piece of technology – the IBM mainframe. 
Now, I'm not a highly regarded expert on technology trends; nor am I a world-renowned expert on information technology – I'm just a poor strugglin' CIO just trying to get a few little procurements done and somehow get information technology to help NASA satisfy its mission better.  So, maybe I won't talk about technology trends or maybe I shouldn't.  But, I'm sure no one would object to a discussion about something else – maybe technology trenz!
The 3270 is back! When personal computers entered the environment, 3270's were viewed as a thing of the past.  Pictured here is an IBM 3279.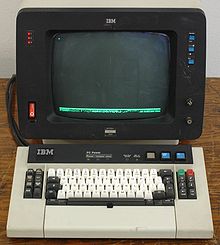 I thought I was cute because I used one.  I had special needs because I was working on graphics software.  But, now, with web-delivered application capability, we return to the old days when girls were girls, men were men, and clients were thin.  From Wikipedia:
Applications development has in many ways returned to the 3270 approach. In the 3270 era, all application functionality was provided centrally. With the advent of the PC, the idea was to invoke central systems only when absolutely unavoidable, and to do all application processing with local software on the personal computer. Now in the Web era (and with Wikis in particular), the application again is strongly centrally controlled, with only technical functionality distributed to the PC.
If I had a nickel for every time I heard the comment that there is no requirement for iPADs or similar tablet devices in the workplace, I'd …well … I'd have my own iPAD.  Well, people knew better and the market is exploding.  And even now, as I gaze at my ODIN-delivered iPAD, I don't know what I need it for, but I'm absolutely sure that I need it! CIO Update says this is the "…year of the tablet".  But, I like to think of these things as really, really small thin 3270s. 
The Data Center is back! Now hold on.  People who used to live in glass houses shouldn't throw stones.  Now, with cloud computing, the Data Center isn't limited by raised floors and glass houses.  Today's Data Center can be accessed through web technologies in the cloud or rolled up in a trailer and moved to where it's needed.  The new trailer park data center even brings its own environmental needs with it.  Now, floor tile pullers are replaced with trailer hitches.  In the press release Gartner Identifies the Top 10 Strategic Technologies for 2010 we hear:
"Newly-built data centers often opened with huge areas of white floor space, fully powered and backed by a uninterruptible power supply (UPS), water-and air-cooled and mostly empty. However, costs are actually lower if enterprises adopt a pod-based approach to data center construction and expansion. If 9,000 square feet is expected to be needed during the life of a data center, then design the site to support it, but only build what's needed for five to seven years. Cutting operating expenses, which are a nontrivial part of the overall IT spend for most clients, frees up money to apply to other projects or investments either in IT or in the business itself."
People are back and never left! As a young mathematician at NASA, I discovered the value of one friend named Stephanie who helped me realize my capabilities as a freshly minted programmer.  Now, with social media, technology allows us to harness the power of "friends" in ways that extend our capabilities beyond physical limitations.  Tom Soderstrom, CTO for IT at NASA/Jet Propulsion Lab gave a captivating presentation at the NASA IT Summit on technology trends.  He presented a collage of predictions from experts across the space.  What trend they all had in common was about – people.  Tom told us that:
"The mega trend that drives the other… trends is the need for people to be able to work with anyone from anywhere with any data using any device. … In the near future, IT will be redefined from "Information Technology" to "Innovating Together", where the traditional IT organization provides the technology and the IT consumers (e.g. Missions) decide how it will be used most effectively. "
Thanks to Jonathan Pettus, CIO of NASA/Marshall Space Flight Center whose interest in information technology and history uncovered the fact that it may even be 1961 again.  He uncovered this tidbit from Wernher von Braun Weekly Notes" about the Burroughs 205 with advanced hardware and software:
"A review of the computing services performed by the decentralized digital computing centers strongly suggest that these facilities could be improved.  New products and developments in the computer field suggest also that this could be done with considerable economy to MSFC. "
Whether it's 2011, 1981 or 1961, I think the trend that remains the same is probably people.  At least one expert believes that people and our human brains are finite and limited.  I'm glad I'm not an expert, because I believe that we the people who use IT can continue to drive these trenz ultimately and infinitely. 
Linda Cureton, CIO, NASA