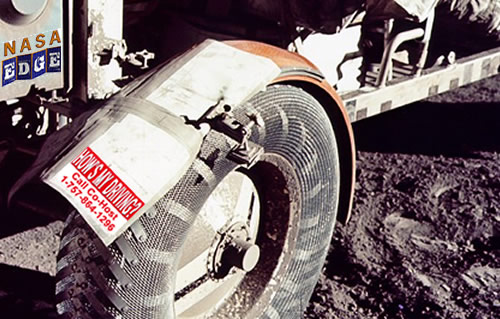 NEWS FLASH:  NASA EDGE drafts Brandon to represent the show in an upocomming NASA "Moonbuggy" race.
"We looked at all of the LARSS (Langley Aerospace Research Summer Scholars) options, and even though we knew we were behind the eight ball with the 104th pick in the draft, we felt Brandon possessed the kind of tenacity that 'Moonbuggy' drivers need to win."  – NASA EDGE Manager of Scouting Operations
I've met Brandon.  In fact, I am responsible for all of his physical and mental training for the upcoming event.  I have no idea what our scouting guy is talking about.  We had the 104th pick out of 104 total picks.  We now have to find a way to turn 150 pounds of raw gene sequencing molecular cell biology major into a viable "Moonbuggy" driver in less than three weeks.  
Plus, as an agency we still have to get back to the Moon, go to Mars, and then beyond.  Safe to say, we have a pretty busy summer.
So, I'll have to get back to my Orion research later.  For now, I have to look into this "300 workout" I've heard so much about.  I hope Brandon is up to the challenge.  Please let me know if you have any suggestions.
Blair