What an experience of a lifetime.  The Desert RATS are a first class team.  We had the opportunity to witness NASA technology and field-testing in action.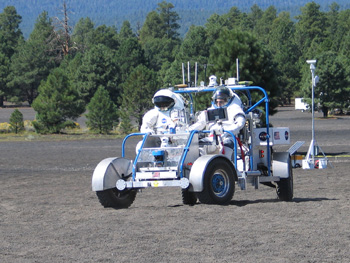 Two space suit engineers in the SCOUT rover head out to their field site.  Credit: Blair Allen
Two of the primary objectives we witnessed were for engineers to conduct a site survey for a lunar outpost using the SCOUT rover and to deploy some 200 meters of cable to enable a solar power system.  This system could potentially power important surface systems and lunar habitats on the moon.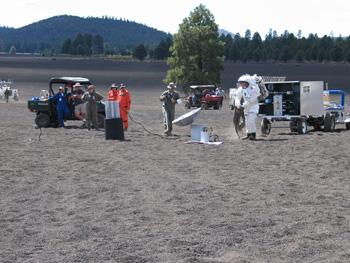 Space suit engineer deploying simulated surface system hardware. Credit: Franklin Fitzgerald
Of course it wouldn't be exploration without the goofy co-host conducting his own experiments.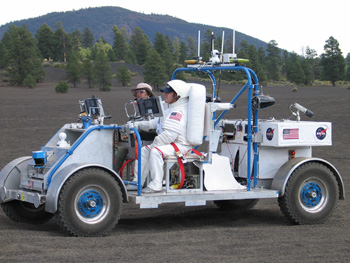 Blair Allen completes his SCOUT drivers license test.  According to Frank Delgado, "The license will be sent by mail."  Kudos to the goofy co-host.  Credit: Franklin Fitzgerald
From what I saw today, I am confident we have the best engineers and scientists working on the lunar architecture. The Desert RATS are very dedicated and passionate about their jobs.  Engineers who've been working for NASA's space program since the 1960s are training the next generation of engineers who'll be responsible for future moon missions.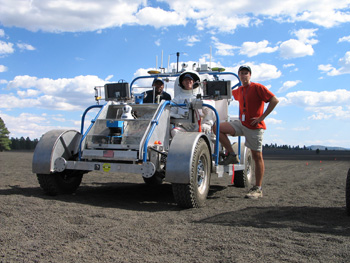 Franklin, Blair, and Chris pose for a quick snapshot.  Credit: Ron Beard

Special thanks to Barbara, Joe, Beth, Brandi, Frank and the Desert RATS team for providing us the opportunity to observe the field test.  You guys rock!
Chris
NASA EDGE Host