Ok, NASA EDGE didn't win the Daytona, but we did win tons of fans with the inspirational presence of Astronaut Mike Good at the Daytona 500 yesterday.
While it is very cool to compare the technolgy of NASA and NASCAR, it is also awesome to see how fans respond to meeting a NASA Astronaut.  Everybody from Navy Seals to fans interested in string theory seemed to gravitate to the cool cat in the blue suit.  Mike even spent some time talking tires with folks in the pit.  Of course, he also spent a good bit of time signing autographs and answering questions from lots of curious fans.
I absolutely have to get a blue suit for the medianaut/co-host of NASA EDGE.
Here are the NASA EDGE historical documents.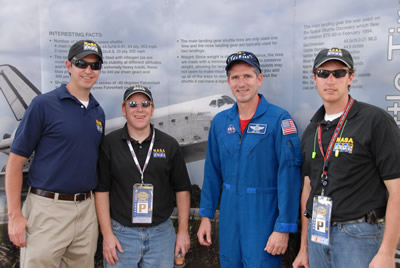 NASA EDGE with "Rocky" Lind from HQ and Astronaut Mike Good.  Credit: Ron Beard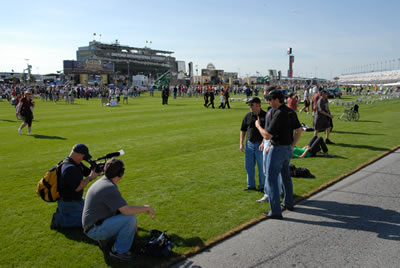 NASA EDGE shoots a promo with Mike Good.  Credit: Rocky Lind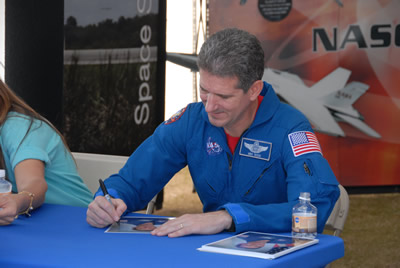 Mike was quite busy signing autographs.  Credit: Ron Beard

Time for one final autograph down on the track.  Credit: Blair Allen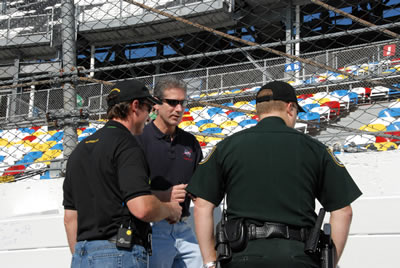 Even Police Officers were impressed.  Credit: Blair Allen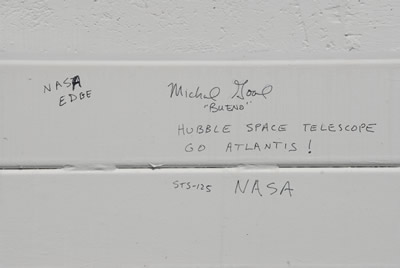 Ryan Newman raced by this autograph 200 times on Sunday.  Credit: Blair Allen
All in all I think that NASA EDGE and the Astronauts for STS-125 make a pretty good team.  Hopefully, we will see more of them before and after their scheduled launch later this summer.
That's all for now.
The Co-Host