Let me start by saying congratulations to the Atlantis Crew of STS-122 for a successful launch.  The NASA EDGE Team watched it on NASA TV through the NASA Portal.   We never get tired of watching shuttle launches, even though Blair misses the shuttle dogs from the STS-118 launch.  He still claims they are fat free but that's debatable.  I wonder if he ever passed his physical the week we returned from Kennedy.

NASA EDGE Show 10 (or vodcast 10) is now ready for download.  On this episode we highlight the lunar architecture and the D-RATS crew.  I believe our Subject Matter Experts (SMEs – NASA jargon), Geoff Yoder and Pat Troutman, did a great job giving an overview of the architecture.  I am still a little ticked off that Pat joked my NASA EDGE shirt live on camera.  I just wished I could of thought of a good come back line within the 5 second limit.  Oh well.  We had a lot of fun talking to the guys and they are welcomed back anytime.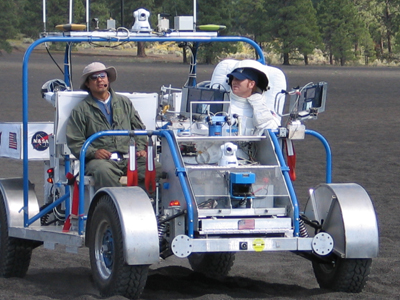 Frank Delgado explaining to Blair Allen the buyer incentive options for the SCOUT Rover. Credit: NASA/Ron Beard
I think Frank Delgado was a little surprised when Franklin and Blair first asked him about the buyer incentive package for the SCOUT Rover.   I think the rover actually gets better gas mileage than Blair's old 84 Corolla.  I can't believe he actually drives that pink car to work everyday.  Maybe that's why it's hard for him to achieve insider status.
Anyway, we all had a great time hanging out with Frank, Joe Kosmo, Barbara Romig and the rest of the D-RATS.  They are paving the way for lunar exploration down the road.  Hopefully we'll be invited back later this year and get a chance to change the Rover tire just like we did down in Daytona.  Should be fun.
All the best,
Chris
Important Note:  Unfortunately due to Government regulations we can't accept posts that include a link to another website.  We apologize for the note but even NASA EDGE must follow the rules.