Great Day at Daytona!
Chris talked to the fans about their knowledge of the Daytona 500 and NASA, and the excitement was amazing.  Everyone seemed to know a lot about both NASA and Daytona which led to lots of very cool conversations.  This should heat up tomorrow.  Astronaut Michael Good is going to be here to answer questions and sign autographs.  If I play my cards right, I may even be able to get some insider tips on what I need to do to go to space.
Here are a few photos of what we did today.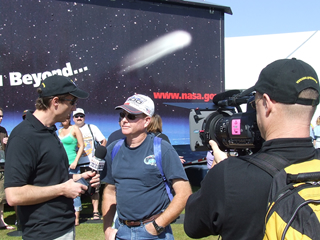 Chris interviews a NASA/Daytona fan.  Credit: Don Morrison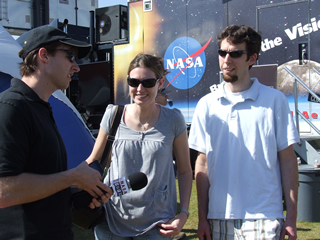 This fan on the right makes his 26th straight Daytona 500.  Credit: Don Morrison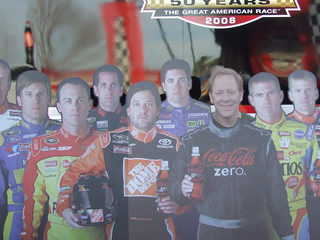 Can you find the Co-Host in this picture?  Credit: Don Morrison

Excitement in the Pits.  Credit: Ron Beard

It was very cool to visit the pits during a race.  You wouldn't believe the constant buzz of activity.  Each car's pit felt like a miniture version of mission control during a launch.  Ok, so I haven't been in the control room during a launch, but it is what I imagine it would be like.
Anyway, check back late tomorrow night for our final Daytona 500 Post.
The Co-Host