On January 8, we had the privilege of covering NASCAR Thunder at the Daytona International Speedway for our upcoming NASA EDGE vodcast on the Daytona 500.  In case you don't know, 2008 marks the 50th running of the Daytona 500 and it's NASA's 50th anniversary.

We had the pleasure of working with Astronaut Drew Feustel.  He's part of the STS-125 mission that will service the Hubble Telescope in August.  Drew had a chance to meet some of the drivers, pit crews, and hang out with fans at the event.  Initially we thought that Drew would not get much attention because how can you compete with the likes of Jeff Gordon, Jimmy Johnson, and Kurt Busch?  We were wrong.  Drew had his own entourage following him asking for autographs and pictures.  Everyone was excited about his upcoming flight in August, especially the drivers themselves.   

Check out some of these cool pics.

Chris, Blair, and Drew change a tire in under 16 seconds. 
Credit: Ron Beard/NASA EDGE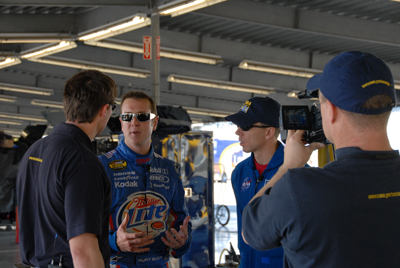 Chris, Kurt Busch, and Drew being shot by Ron for an upcoming
NASA EDGE video podcast.  Credit: Blair Allen/NASA EDGE
I want to thank Rocky Lind from NASA HQ for setting up this interview for us.  Kurt Busch was very cool to work with, and he was very eager to learn more about what Drew does as an astronaut.  We talked about the similarities between a NASCAR driver and an astronaut and the benefits of NASA technologies in racecars.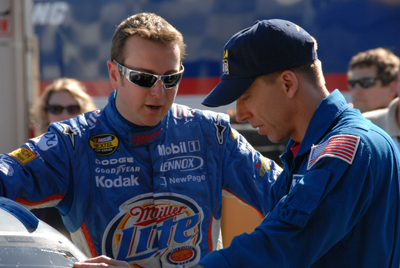 Kurt Busch shows the interior of his car to Drew.
Credit: Chris Giersch/NASA EDGE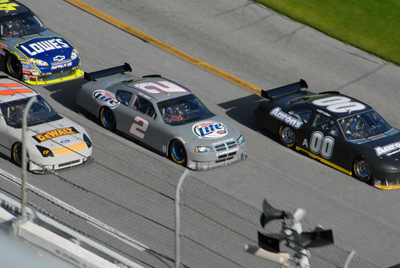 Kurt Busch in the #2 taking a few practice laps. This picture
was taken from the top of the Daytona 500 tower.
Credit: Ron Beard/NASA EDGE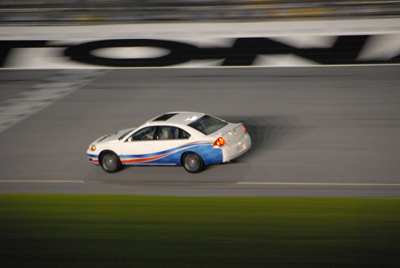 Blair, Ron, and Drew take a few laps around the track in a
Chevy Impala SS.  Credit: Don Morrison/NASA EDGE
This was the highlight of the day.  We had the opportunity to ride around the track a couple of times in a 2008 Chevy Impala SS.  I've never experienced going into a 31 degree banked turn.  What a rush!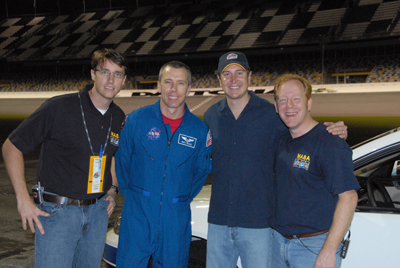 Chris, Drew, Kurt, and Blair pose for a group shot.
Credit: Ron Beard/NASA EDGE
We'll be back in Daytona during the Rockfest events the week before the Daytona 500 to finish filming.  Blair and I can't wait to hang out with the public around the NASA Exhibit.  If you're in Daytona on Feb. 12, 13, 15, and 16, come by the NASA exhibit and say hello.
All the best,
Chris
Host