Kim Land, Public Affairs, Outreach and Education Manager for the Exploration Technology Development Program (ETDP), provided us the opportunity to shoot NE@ segments on the lunar manipulator arm and the inflatable lunar habitat. Both are just concepts and in not in anyway the final product.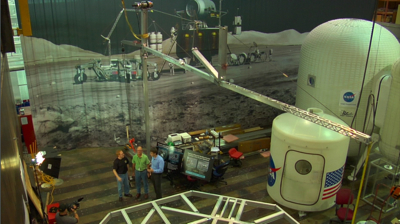 Chris and Blair are interviewing John Dorsey for an upcoming NE@ segment.  Credit: NASA EDGE/Don Morrison
I really love this perspective of the lab.  Above us is the lunar manipulator arm and to the far right is the inflatable lunar habitat concept.  The arm actually lifted the airlock structure (the one with the American flag) for the first time right after our shoot.  The structure is designed to lift 1 metric ton on the lunar surface at the tip of the arm or approximately 150 kilograms on Earth.  Because the airlock mockup weighs about 220 kilograms the manipulator arm lifted the airlock from the elbow.  The arm can lift about twice as much at the elbow compared to the tip.  John Dorsey will provide more info on the arm in the NE@ segment. Also, check out the cool backdrop.

Chris is learning more about the inflatable lunar hab from Karen Whitley.  Credit: NASA EDGE/Ron Beard

Next, Karen Whitley gave us the scoop on the inflatable lunar habitat concept.  I am sure most of you have seen this concept on the NASA Portal but it was pretty awesome to take a tour inside.  NASA and ILC Dover are studying cool ways of developing inflatables that will endure harsh environments i.e. the lunar surface.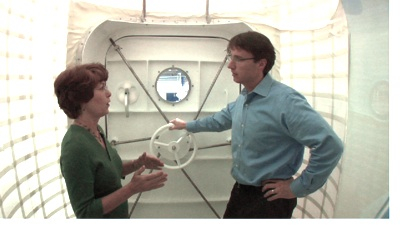 Karen explaining to Chris the purpose of an airlock.  Credit: NASA EDGE/Ron Beard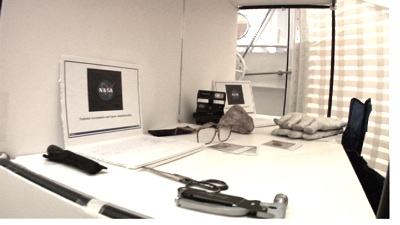 Work space concept inside the hab.  Credit: NASA EDGE /Ron Beard

This particular concept which is about 50 m3 is designed for two astronauts. The actual habitat will need to be much bigger, say around 150 m3.  In fact, I've tasked Blair to live inside the hab for a week as part of his medianaut training.  I don't think he's seen the official email yet so let's see how long it takes for him to respond to this post.
Special thanks to Kim Land, John Dorsey, and Karen Whitley for allowing us to shoot in the structures lab.  You guys rock!
All the best,
Chris