I apologize for the long delay in posting to the blog.  We've been extremely busy lately and finally have caught up on most of our work.  The NASA EDGE team and I at least want to share with you some pics from Yuri's Night Bay Area at NASA Ames Research Center in Moffett Field, CA.

Blair, Chris, and Everyman (Franklin) are trying to recover from messing up the opening. Credit: NASA EDGE/Ron Beard

We were impressed with the organization of the whole event.   There were a number of exhibits both in the hangar and out on the tarmac.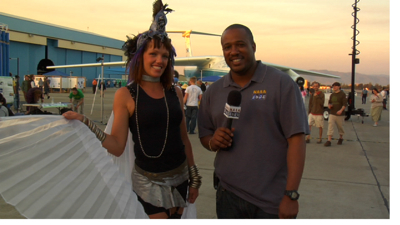 Everyman is interviewing a Yuri's Night groupie.  Credit: NASA EDGE/Ron Beard
There were so many people dressed up in all types of costumes.  From superheroes, to space aliens, to the bizarre, we had a chance to stop and chat with a few of them.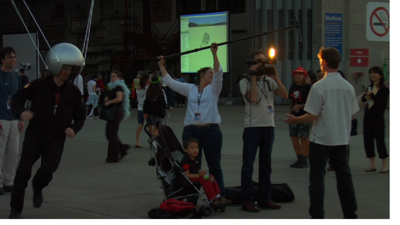 Sputnik head guy is running around a film crew. Credit: NASA EDGE/Ron Beard
I think the guy in the picture above was the energizer bunny with a satellite on his head.  He just kept running around and around and around while the crew from Wired Magazine were doing a story.
There were some cool events going on at night.  Check out the pic below.

Cirque de Soleil like dancing at Yuri's Night.  Credit: NASA EDGE/Ron Beard
I think the highlight of Yuri's Night Bay Area 2008 was Shuttle Bay Confessions, a NASA EDGE exclusive Extra Studio Activity (ESA).  We gave YNBA participants a chance to answer some questions in the shuttle bay.  Well, actually they were sitting in front of a green screen.  You'll have to wait until the segment is released.  You won't believe some of the answers we received.
Special thanks to Kelly Humphries, Public Affairs Lead at NASA Ames, for handling all the logistics and making our life much easier plus giving Blair the opportunity to ride in a Pitts aircraft.

Blair is excited about the Hammerhead maneuver.  What a ride! Has he achieved insider status?

See you guys next year at YNBA 2009!
Chris