What is the eZLS?  It's the enhanced Zero-Gravity Locomotion Simulator.  Essentially it's a vertical treadmill that can simulate walking or running in a reduced gravity environment such as on the ISS, the Moon, or Mars.  Blair and I had the opportunity to run on the treadmill to experience what astronauts go through when they work out on station.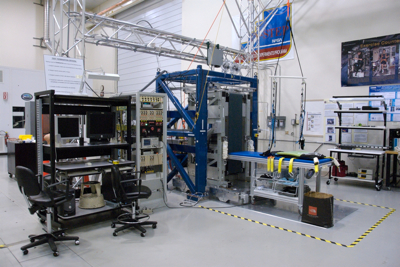 The eZLS inside the Exercise Countermeasures Laboratory at NASA Glenn Research Center.  Credit: NASA EDGE/Ron Beard

This piece of equipment is housed at NASA Glenn Research Center and is part of the Exercise Countermeasures Laboratory.  I have to say this is one cool piece of technology.  The goofy co-host had first crack at the treadmill.  He came in wearing colorful and loud workout gear sporting 1980's socks and headband.  I think he watched Chariots of Fire before the shoot.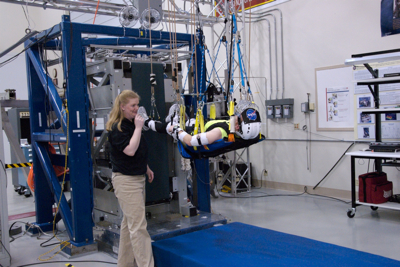 Kelly Gilkey makes sure Blair is ready to go on the eZLS. Credit: NASA EDGE/Don Morrison

Check out our Facebook page to see more pictures of Blair stretching and posing for the camera.  Next it was my turn and my dress was a bit more reserved.  I consider myself a runner so I was really paying attention to all the details.  Kelly Gilkey made sure everything looked good and that I was secured.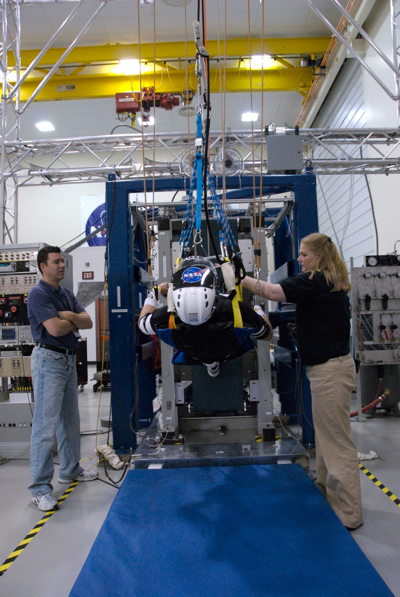 Chris is running vertically for the first time in his life.  Credit: NASA EDGE/Don Morrison
I started out by walking at a 3.5 mph pace.  It took about 30 secs to a minute to get accustomed to the treadmill.  At first I felt my feet going everywhere and the force plate, which is free floating was moving in all directions.  Once I got the hang of it I then started with a light jog (5.5-6.0 mph).  The treadmill was very fluid and easy to run on. I never passed 7.0 mph due to time constraints but next time I would like to bump it up to 9 – 10 mph to get a good workup or maybe run a half-marathon.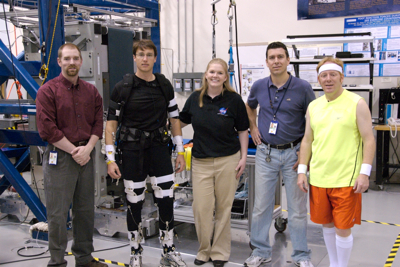 Blair won best outfit for the day.  Credit: NASA EDGE/Ron Beard
Special thanks to Gail Perusek (Project Manager), Kelly Gilkey (Lab Manager), Mike Rossiter (Operations Engineer), and Mark Savina (Operations Manager) for allowing us to cover the eZLS.  This will make a great NE@ segment.
All the best,
Chris
Host