I hope Blair finds his way back from Tashi.  We noticed a few stormtroopers following him into an alley.  In the meantime here are some more pics from Tatooine or Moses Lake.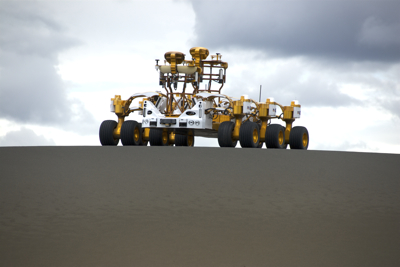 Great shot of Chariot on top of the hill.  Credit: NASA EDGE
Someone needs to photoshop this pic with a space backdrop and Earth in the background.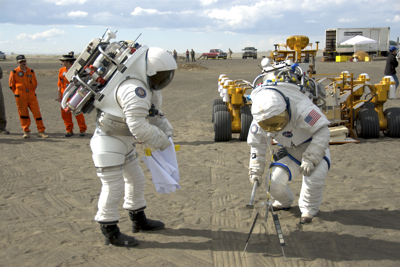 Spacesuit testing at Moses Lake.  Credit: NASA EDGE

We forgot to mention the Desert RATS in our first post.  Joe Kosmo and Barbara Romig, pictured in the orange jumpsuits to the left,  lead the Desert RATS.  They are top notch professionals with a great sense of humor.  You'll see them again in our NE@ segment at Moses Lake.

Scarab – Lunar rover concept.  Credit: NASA EDGE

This actually looks like a hot wheels car.  They demostrated Scarab's manueverability around a small crater.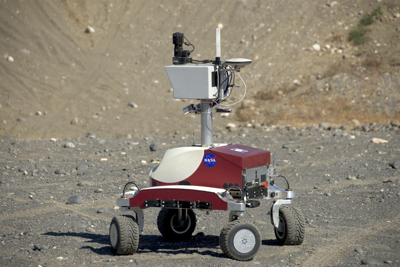 The K-10 lunar rover concept from NASA Ames Research Center.  Credit: NASA EDGE

I guess you can call this the R2-D2 of the lunar rover concepts.  These rovers were being tele-operated from NASA Johnson Space Center.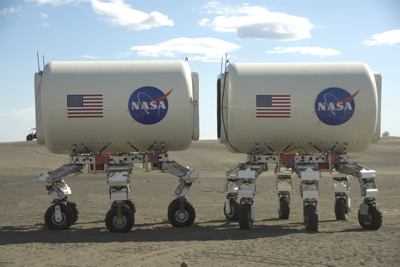 This could be Blair's new lunar home.  Credit: NASA EDGE

Two ATHLETES, each carrying a mock lunar hab, joined together to simulate the connection of two hab modules.  The ATHLETEs in the picture above are only 1/4 scale versions.  Imagine having an ATHLETE four times the size working on the lunar surface….very cool!
Thank you for all the cool comments from the previous post.  We had a great time in Moses Lake, WA.  The people are very friendly and hopefully we can go back in the future.  Wait a minute…somone just came out of hyperspace.   I better sign off before I get hit.  All the best, Chris (Host).
BTW, Blair here.  I was not captured by stormtroopers.  I was accidentally sucked up into a sand crawler.  It took me longer than expected to escape due to a bad motivator.  Sigh.  On a more serious note, I did want to give props to our orange suited friends.  Chris was kind about it, but I totally forgot to mention in my previous post that they were not working specifically on Chariot.  They were specifically working on the space suites – both real and mock up versions.  So when you see pictures of them, the suits, or me looking sheepish, remember that even though we are a big team, Barb and Joe were primarily the keymaster and gatekeeper of the suits during the mission at Moses Lake (sorry to mix Star Wars and Ghostbuster metaphors.)
Peace,
The Co-host