Last week the NASA EDGE team traveled to NASA Goddard Space Flight Center in Greenbelt, MD to shoot a segment on the Lunar Reconnaissance Orbiter (LRO).  LRO is the first mission in the US Space Exploration Policy, a plan to return to the moon and then to Mars and beyond.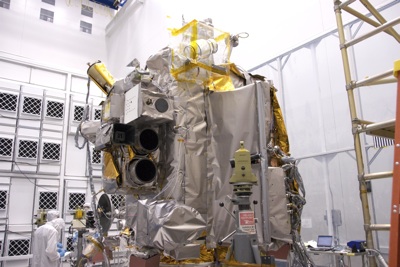 LRO in the clean room at NASA Goddard Space Flight Center.  Credit: Chris Giersch, NASA EDGE

You can learn more about LRO at www.nasa.gov/LRO.   Special thanks goes to Stephanie Stockman, Education and Public Outreach Lead for the mission.  She handled all the logistics from her end and made our life very easy during the shoot.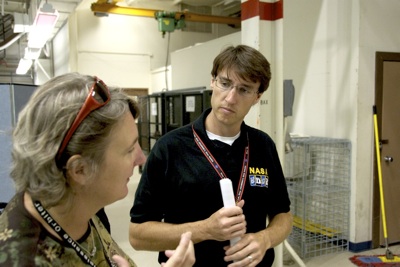 Stephanie Stockman and Chris Giersch discuss LRO's mission objectives. Credit: Ron Beard, NASA EDGE
Below are a couple of pics from the shoot.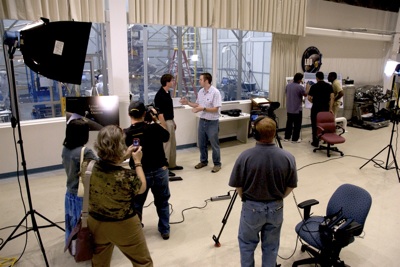 The Host interviewing Noah Petro, Planetary Geologist and Expert Lunar Guru (ELG). Credit: Franklin Fitzgerald, NASA EDGE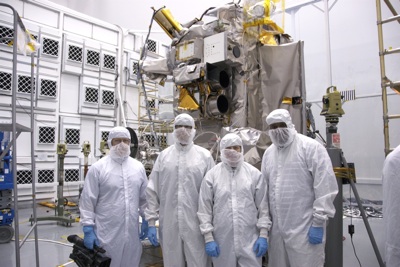 The NASA EDGE Team (Ron, Chris, Blair, and Franklin) in front of LRO.  Credit: Cindy Taylor

Finally, here's a pic for the LRO team.  We found this in their conference room.  We need to look into getting one for NASA EDGE.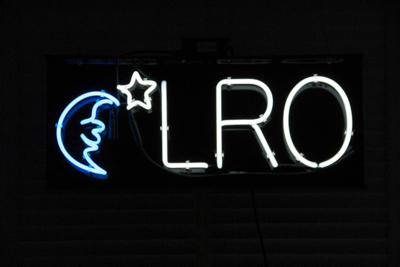 Even LRO has their own neon sign.  Pretty cool.  Credit: Chris Giersch, NASA EDGE
We look forward to now producing a segment on LCROSS because LRO and LCROSS are going up on the same spacecraft.  I guess we are off to Ames in the near future.  Thanks again to the LRO team for a great time up at NASA Goddard!
Chris
NASA EDGE Host