The NASA EDGE team had the opportunity to visit Ames, Iowa to assist the staff that work the NASA Exploration Experience trailer.  Ames was the last stop in the Iowa State tour.  The trailer also visited West Point for the 56th annual Iowa Sweet Corn Festival and the Iowa Children's Museum in Coralville.  Approximately 5,400 people took the opportunity to go inside the trailer to learn about NASA's plan to return humans to the moon.  You can learn more about the Exploration Systems Mission Directorate's Communications and Exhibits at https://www.nasa.gov/directorates/esmd/outreach/index.html.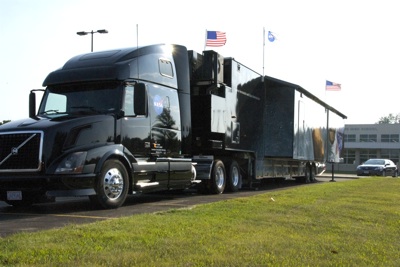 NASA Exploration Experience. Credit: NASA EDGE
While visiting Ames High School, the team had the privilege of interviewing the winner of the 2nd Annual 21st Century Explorer Podcast Competition (vodcast, 15-18 age group), Kristina J.  The podcast competition was sponsored by Lockheed Martin and AIAA in collaboration with NASA. Kristina had to answer the question, "What do you think is NASA's Greatest Exploration achievement in the past 50 years and why?"  Her vodcast titled, "Hello From the Children of Planet Earth", discussing the important discoveries made by the Voyager spacecrafts.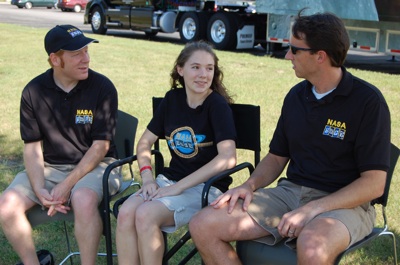 Blair and Chris interviews Kristina. Credit: NASA MSFC/James Bilbrey
Kristina has a very bright future ahead of her.  Entering her junior year, she wants to be an aerospace engineer and work for NASA (good news!).  She also has a lot of experience with film and production.  We were able to witness first hand her shooting abilities at the trailer.  In fact, if Blair ever makes it as a medianaut and flys to the moon, then we have the perfect fill in as co-host.  You can see her interview on the next NASA EDGE vodcast slated to be released on Sept. 16.
Here are a couple of more pics we have to throw in.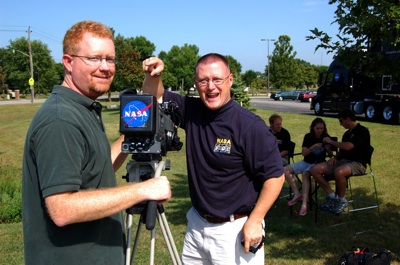 Ron giving props to NASA MSFC videographer, James Bilbrey.  Credit: NASA MSFC/Mick Speer

James Bilbrey (NASA MSFC) was tasked to shoot video for the NASA Exploration Experience, however, he actually helped us out with our shoot.  Kudos to James and Mick Speer for helping us out with audio.
Okay, here is one last picture – the women of NASA MSFC.  What a great group of people to work with!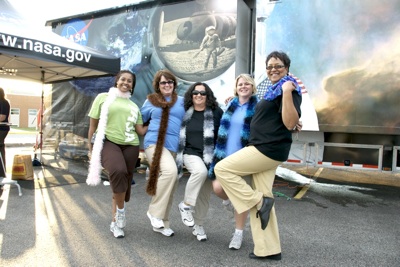 The women of NASA Marshall Space Flight Center. Credit: NASA EDGE/Ron Beard
After a long day in the hot sun they still had enough energy to smile for the camera. Bonus points if you can name any one of them.
Don't forget our next vodcast comes out on September 16 – NASA EDGE: Folklife Festival.
All the best,
Chris
Host