We are very fortunate to be part of the Constellation Program.  It's been four years since President Bush announced the plans to return humans back to the moon and then on to Mars and beyond.    The cool part about our jobs (besides looking for a new co-host) is that we get to see some awesome hardware.   Check out two of the many projects going on at Langley to support Constellation.
Pathfinder Crew Module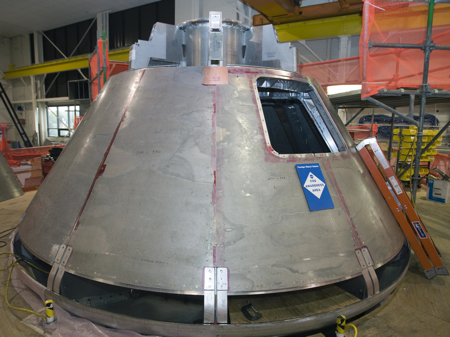 Credit: NASA/Sean Smith
Fabrication of the Pathfinder crew module, one of NASA Langley's current space hardware projects, is nearing completion.  Upon completion, Langley will transport the Pathfinder crew module to the White Sands Missile Range in New Mexico where it will be used in preparations for Pad Abort-1, the first unmanned test of Orion's launch abort system.  Rumor has it, the co-host may travel on this pathfinder just like he did in the Orion Flight Test Article (See NE@Orion FTA for more details on the FTA).  HDTV is optional on the trip.
Launch Abort Vehicle Wind Tunnel Testing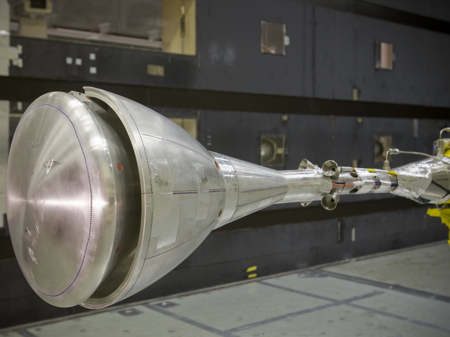 Credit: NASA/Sean Smith
Here's a small-scale mockup of the launch abort vehicle used in recent testing in Langley's 14×22 subsonic wind tunnel.  The launch abort vehicle includes NASA's new spacecraft Orion and the launch abort system, which will provide a safe escape for the crew in an emergency on the launch pad.
During this test, researchers investigated the interaction and effects of the launch abort system's jettison motor plume during the separation of the abort system and the crew module.  The plume of the rocket motor was simulated with high-pressure air.  The jettison motor, one of three solid propellant motors in the launch abort system, is designed to separate the spacecraft's abort system from the Orion crew module during launch.  Unfornuately the co-host could not participate as a crew member in this test.  Even though he barely fit in the crew module, Blair had a tough time closing the hatch.  You can't win them all.
These are just two of many many projects going on at NASA Field centers across the country.  We can't wait to head out to White Sands to cover Pad Abort-1 and down to KSC to cover Ares 1-X.
On a side note – Congratulations to SpaceX!
All the best,
Chris
Host