Blair had a problem with a power converter on his T-34 heading to Tashi Station, and Mos Nocohost was the nearest place that sold power converters.   As we approached Black Point Lava Flow, we happened to see a bunch of tents in the distance.  Using stealth like techniques, we decided to investigate.  Avoiding all imperial entanglements, we managed to get some cool pics of a very cool looking small pressurized rover concept.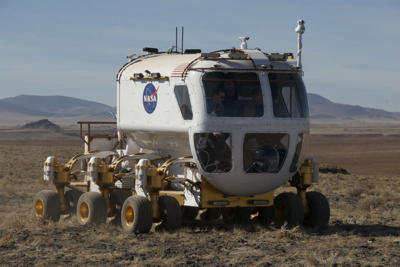 Small Pressurized Rover Concept.  Credit: NASA EDGE

NASA is now testing a new generation of rovers that will be used when we return to the moon by the end of the next decade.  One of these rover concepts is the Small Pressurized Rover or SPR.  The SPR consists of a Mobility Chassis and an SPR cabin module.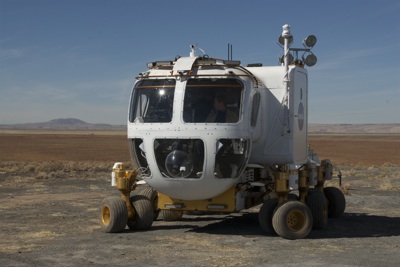 SPR showing the "crab style" movements.  Credit: NASA EDGE
The SPR concept offers many advantages over the rovers of the Apollo days.  It will increase the potential range of exploration, provide protection for the astronauts, reduce the amount of time astronauts must wear pressurized suits and allow for more scientific research.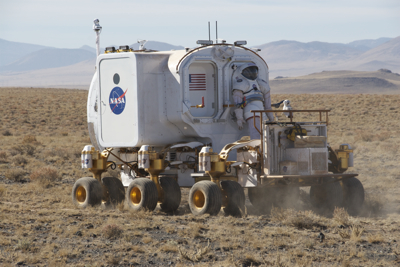 The SPR in action.  Credit: NASA EDGE

Another unique advantage of the SPR system is the crew lock concept, providing a rapid EVA ingress/egress.  The crew lock will allow the crew to enter and exit the EVA suit while never having to bring the suit inside, keeping the internal space mostly free of dust.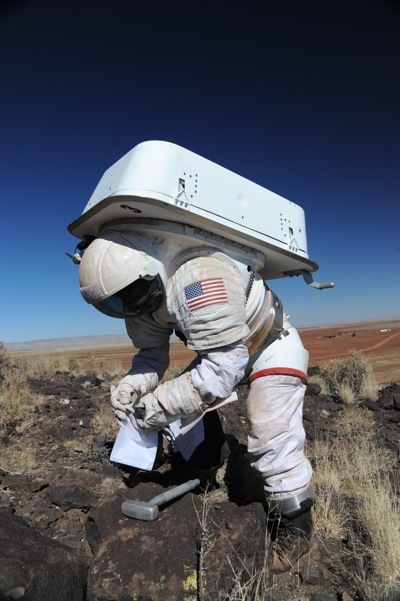 EVA mock-up suit. Credit: NASA
Well, the second power converter died on the T-34 and we were stuck out on the lava flow with no transport to get to Mos Nocohost.  As the Sun drifted away below the horizon and temperatures falling near freezing, I asked Blair if we had a back up plan.  "Back up plan?" responded Blair.   Have no fear, SPR is here.   The SPR team is a great group of engineers and technicians. They definitely have the "right stuff" and have been working hard the past couple of years on lunar rover concepts.  In fact, they managed to find time to bail us out and provide a lift into town.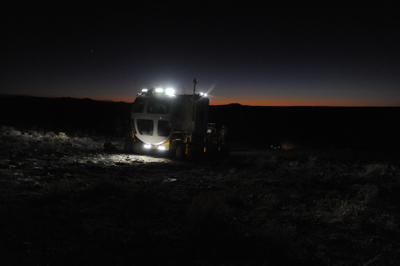 SPR in action at night.  Credit: NASA
We had a great time covering the SPR test at Black Point Lava Flow in Arizona.  Look for an NE@ segment in the next month or so featuring Astronaut Mike Gernhardt taking us on a test drive in the SPR.
All the best,
Chris
Host