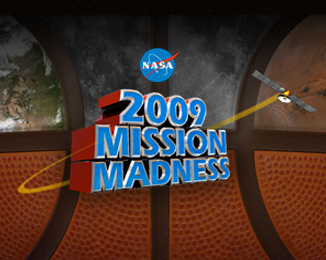 Ok, we are literally hours away from announcing the field of 64 Missions competing in 2009 Mission Madness. 
And this year's field of missions will no doubt spark some controversy.  Some will be angry about their favorite mission not being among the top 64.  Some will be angry that their mission is going up against Apollo 11.  Some will demand that all missions be judged on the amount of science they have generated.  Some will demand that the greatest mission should simply be the coolest mission imaginable.  Tensions may run high, tempers may flare. 
So, I would like to suggest the following guidelines to ensure a successful outcome:
1.    Print and fill out 64 brackets to account for all winning scenarios.
 
2.     Fill out your bracket in pencil in order to make adjustments less obvious.
3.    Create decoy brackets for your friends that disagree with you.  When they leave their desk to go to a meeting, switch their bracket with your better bracket.  If you do this enough, you may actually influence their votes.
4.     (For those folks whose favorite mission was overlooked) Find out who is actually on the selection committee, befriend them, use your skills of persuasion to influence them in the selection process for next year.
5.     Vote like mad.  Voting doesn't begin until the 19th, but you are allowed to vote as many times as you like.  So, print your bracket next week, and then when voting begins, vote away.  NOTE: By following guideline number 3, you can possibly reduce your need to vote incessantly by half.
This list is not complete, but it should offer some initial strategy to select the winner for 2009 Mission Madness.
Of course, you could just download the NASA EDGE 2009 Mission Madness Selection Show on Monday and vote for the missions that the Co-Host is supporting.  Just a thought.
The Co-Host