Voting has begun!
The story lines for the tournament are starting to take shape, and there are some early surprises.  If you have any reactions, thoughts, issues or taunts, start posting. 
Make your case to fellow fans, and get out the vote!
The Co-Host
P.S.  You have to love Hubble's taunt of the day… They said they could beat Aura with their bad lens.  Cold, but after looking at the early numbers, it may be the cold, hard, truth.  What do you think?
P.S.S.  This has to be the real shocker…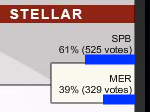 Looks like the Mars Rovers need to send back images of some more votes!