Round 1 Delivers a shocking upset and plenty of drama!

As one of our guests said on the vodcast… "Rovers can't throw touchdowns."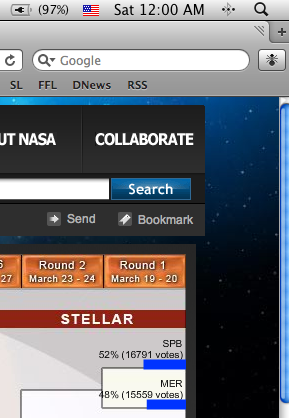 No tournament would be complete without an upset or two, but the stunner between MER and SPB will be talked about for years to come.  48 hours ago MER fans were talking about who they might face in the championship.  Now they are talking about what went wrong.  Meanwhile SPB is flying higher than ever, aloft and heading into round 2 with a lot of momentum.  Unbelievable.
Round 2 should be interesting.  You can visit the results page for your own analysis:
http://mission-madness.nasa.gov/mm/results.html
Here are the likely match ups for round 2:
NEBULA
Apollo 11  vs  Mars Phoenix
LRO  vs  Hubble
Freedom 7  vs  WMAP
SR-71  vs  Mars Pathfinder
GALAXY
Viking 1 & 2  vs  Ares I
Pioneer 10  vs  Bell X-1
Apollo 8  vs  SOHO
Surveyor 1  vs  Skylab
STELLAR
SPB  vs  Mars Odyssey
MRO  vs  Expedition 1
X-29  vs  STS-8
Orion  vs  Apollo 13

Horizon
X-43  vs  Expedition 16
JWST  vs  NB-52
Cassini  vs  Voyager 1 & 2
STS-1  vs  New Horizons
There you have it.  Baring some bizarre database anomoly, These are the round two match ups.
Let the trash talking continue…
The Co-Host