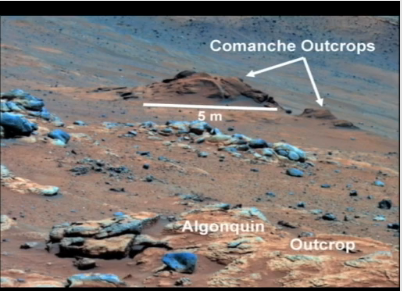 Rocks examined by NASA's Mars rover Spirit hold evidence of an ancient wet, non-acidic environment that may have been favorable for life. Confirming this mineral clue took four years of analysis by several scientists.
Spirit inspected many rock outcrops, including one called Comanche by scientists. They discovered magnesium iron carbonate makes up about one-fourth of the measured volume in Comanche samples. That is a tenfold higher concentration than any previously identified for carbonate in a Martian rock. 

Massive carbonate deposits on Mars have been sought for years without much success. Numerous channels apparently carved by flows of liquid water on ancient Mars suggest the planet was formerly warmer, thanks to greenhouse warming from a thicker atmosphere than exists now. The dense, ancient Martian atmosphere was probably rich in carbon dioxide, because that gas makes up nearly all the very thin, modern atmosphere.