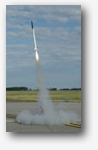 On June 20-24, 2011, 20 educators participated in the Wallops Rocket Academy for Teachers and Students, or WRATS, at NASA's Wallops Flight Facility, located at Wallops Island, Virginia. Of the 20 participants, 10 were NASA Explorer Schools educators who have been recognized for their best practices in using the Rockets Educator Guide content module on the NES Virtual Campus. 
The educators toured Wallops Flight Facility, built rockets, launched them and analyzed the launch data. They also interacted with university students attending the NASA hosted RockOn! University Rocket Science Workshop and got an inside look at the students' experiments. The highlight of the week was the launch of the Terrier-Improved Orion Sounding Rocket on June 23. 

Michelle Harrison (shown in the picture to the right), NES participant from Holly Grove Christian School, commented on how the WRATS workshop gave her the confidence to use the Rockets Educator Guide content module in her classroom. 



To use the Rockets Educator Guide with your students this fall, sign-up to be a participant in the NASA Explorer Schools project.
Link to the NES Virtual Campus home page.