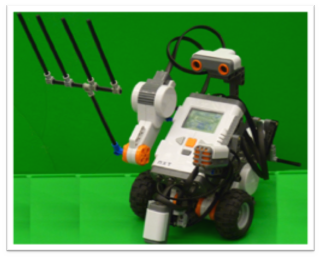 The NASATalk NXT Tweetup will provide a light introduction for those new to Twitter, while at the same time presenting several NXT robotics resources for use in classroom or informal education settings, on Monday-Friday, April 9-13, from 4-5 p.m. EDT.
This event focuses on NXT robotics questions, answers and comments being addressed within the activities presented in the Group Activities on the NASATalk NXT Tweetup website.
The activities include:
   • Circles, Ratios and Robot Navigation.
   • Robot Virtual Worlds.
   • Decibel Detection (Using Sound Sensor).
   • Rocker Bogie Rover Wheel System.
   • Gear Ratios Applied to Robots.
If you're on
Twitter
, follow @NXTtweetup. One tweet will be added every 15 minutes during the event.
Direct your NASATalk NXT Robotics Tweetup questions to the following:
   •
Meri Cummings
about appropriate activities and the Tweetup schedule.