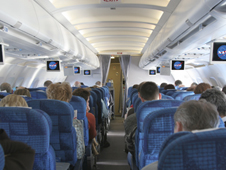 Are you traveling by air this year? If so, then you'll be in the company of millions who are directly benefiting from the ongoing research performed by NASA's aeronautical innovators.
During 2012, NASA's Aeronautics Research Mission Directorate continued a wide range of research projects aimed at advancing the science of flight. Among the goals are enhancing safety; designing more fuel-efficient jet engines; enabling quieter airplanes; improving air traffic management; and educating and inspiring future generations of aviation experts.
NASA's "aeronauts" even helped scientists learn about the Martian atmosphere during Curiosity's nail-biting descent toward the Red Planet in August 2012.
To read about some aeronautics highlights from 2012, visit https://www.nasa.gov/topics/aeronautics/features/2012_highlights.html.
This article is a great extension to the NASA Explorer Schools lesson, "Distance/Rate/Time Problems: Smart Skies." To access this lesson, visit the NES Virtual Campus at http://explorerschools.nasa.gov.