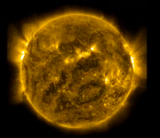 In the three years since it first provided images of the sun, NASA's Solar Dynamics Observatory has had virtually unbroken coverage of the sun's rise toward solar maximum, the peak of solar activity in its regular 11-year cycle.
For more information and to see or download a time-lapse video showing those three years of the sun at a pace of two images per day, visit https://www.nasa.gov/mission_pages/sdo/news/first-light-3rd.html.
This video is a very cool addition to the NASA Explorer Schools featured lesson, Geometry: Space Math Problems—Solar Storms. To access this lesson, visit the NASA Explorer Schools Virtual Campus.