Today was the last major NASA meeting prior to launch…the Launch Readiness Review (LRR).  The LRR is the final opportunity for each of the organizations involved in the mission to determine if OCO is ready to proceed with the launch.  At the LRR, reports were provided by the spacecraft team, launch vehicle team, western range, weather, communications/telemetry, and public affairs.  At the conclusion of the review a poll was taken of the senior officials from each organization represented at the meeting to if we were ready to proceed to launch.  At today's LRR all responses were "ready to proceed", so we are all set for a launch Tuesday morning!
The latest weather forecast looks encouraging.  There is a 50% chance of showers early Monday, but then it is expected to clear for the late afternoon.  For our launch window, which opens at 1:51AM PST, the forecast of partly cloudy skies with a 10% chance of precipitation sounds pretty good.  
Speaking of the launch window, I've had several friends and family ask if we could schedule the launch at a more convenient time.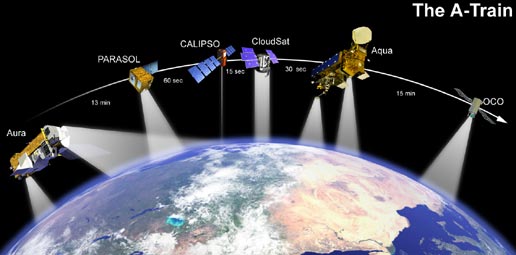 Unfortunately, what is inconvenient for viewing of the launch is ideal for the OCO mission.  OCO plans to fly as part of the Earth Observing System Afternoon Constellation, also known as the A-Train.  The A-Train currently consists of 5 satellites (Aura, Aqua, CloudSat, CALIPSO, and PARASOL) flying in formation.  Operating in this coordinated flight formation will allow OCO's measurements of carbon dioxide to be combined with nearly simultaneous measurements (ozone, nitrogen dioxide and methane, to name a few) from other A-Train satellites to help scientists better understand our complex Earth system.  In order for OCO to be inserted into the correct position in the A-Train, we have only an 8-minute window each day to launch…and this window opens at 1:51AM PST.
So, set your alarms, grab a little coffee, tune in to NASA TV and enjoy the launch!