Today was a relatively quiet day here at Vandenberg.  The only event on my agenda was a dress rehearsal for Monday's pre-launch press conference.  You might be thinking, "Dress rehersal?  What for?"  Well, for most of us on the panel, speaking to the media isn't something we do on a regular basis.  So it is important for us to get together in advance to make sure our prepared statements work well together, proving a narrative that is easy to understand and conveying the key points we would like the public to know.  Also, we need to coordinate any visuals that we will be presenting with the right verbal cues.  The other aspect of press conferences is the question and answer session.  While each of the panelists is well versed in his/her field of expertise, the questions asked may be provocative or off our "beaten path".  It is helpful for us to anticipate these types of questions and give some thought as to how best to respond.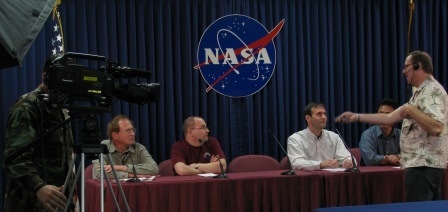 Having done my first media event about a month ago, I found it to be a challenge, but a good growth experience.  I am confident that as I do more of these, I will become more comfortable and it will just be another day at the office….but for now I still get a few butterflies in my stomach.  Tune in to the press conference on NASA TV, Monday February 23 at 9:00AM PST at:
https://www.nasa.gov/ntv (also available on some cable and satellite providers)
One of the things I'd like to help convey today through my blog is a simple explanation of what the science of OCO is all about.  We know that the global level of carbon dioxide is rapidly increasing in the atmosphere and is currently at about 380 parts per million.  However, at any given time the concentration of carbon dioxide at different locations around the globe varies only by 8-10 parts per million in the north-south direction and 3-4 parts per million in the east-west direction.  So in order to understand where carbon dioxide is being added to the atmosphere (sources) or being removed (sinks), very precise measurements are required.
Currently, there are ground base stations that can give this precision, but they are few and far between.  We can also make precise measurements using instruments on aircrafts, but again the sampling area is small, and the duration of airborne campaigns is relatively short.  NASA is currently measuring carbon dioxide with the Atmospheric Infrared Sounder (AIRS) instrument on NASA's Aqua satellite, but it is focused only on the mid-troposphere region of the atmosphere and it does not have the resolution to identify sources and sinks.  
OCO is designed to determine carbon dioxide concentrations to 1 part per million.  Flying in its near-polar, sun-synchronous orbit, OCO will be able to map the carbon dioxide concentrations throughout the globe every 16 days.  With a prime mission planned for 2 years, we will be able to obtain this mapping over two full seasonal cycles.  So, OCO will provide scientists with both the coverage and accuracy needed to resolve sources and sinks of carbon dioxide.
For much more information on OCO science, check on NASA's main OCO page: