Guest blogger Martin Burkey, the SLS strategic communications team's resident expert on all things engines and stages, returns this week to introduce a man he's worked with closely, new SLS Program Manager John Honeycutt. — David
---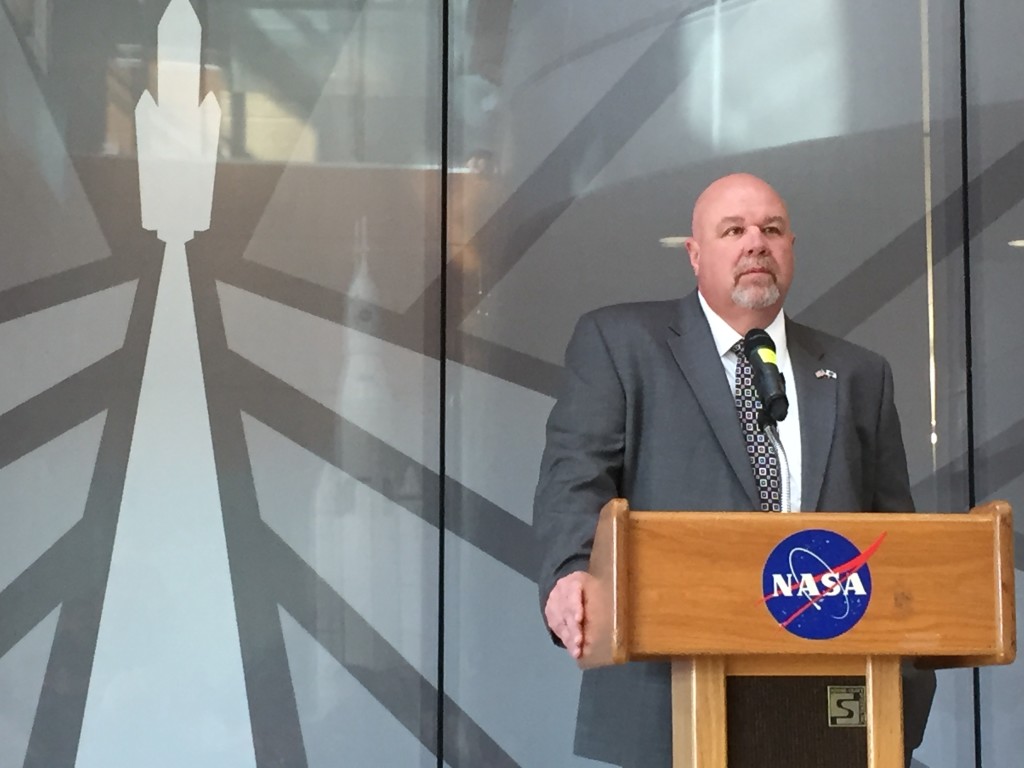 Three golf putters lean against one wall in John Honeycutt's office. They haven't seen much action lately, and it may be a long time before they do again. Honeycutt, who takes his golf game seriously or not at all, was recently named to lead NASA's Space Launch System Program, which is fast becoming crowded (pleasantly) with spaceship parts for testing and even flight.
He succeeds the program's first manager, Todd May, who was recently named deputy director of Marshall Space Flight Center, where SLS is based.
Within NASA, he's a known quantity with 25 years of experience on both the development and operation side and the challenges that came with both. As imposing a figure as he may be in person, he's also surprisingly soft-spoken. He tends to do a lot of listening, asking questions designed to cut through knotty issues and reveal trends or issues lurking in the dense, detailed, "eye charts" typical of NASA presentations.
He's collaborative, essential for working with other programs. He's customer-focused, which makes him responsive to strategic direction from above. And he enjoys cutting up with his team on special occasions. Better judgment prevents me from posting the pictures.
Honeycutt grew up in Huntsville, a city that evolved from agriculture to manufacturing and to high tech thanks to military projects and NASA space programs. When he was growing up, it was just assumed that, if you lived here, you were going to work with the Army or NASA. His father is a mechanical engineer who was a metals expert first for the Army in the 1960s and then for a space shuttle contractor in the 1980s, and he continues to work in metals analysis today at Marshall.
The younger Honeycutt worked his way through college, managing a small grocery store, a gas station, and working in a hardware store. He attended college part time until he was about 24 and turned full-time student until he graduated with a mechanical engineering degree from the University of Alabama in Huntsville. Through the wife of one of his part-time employers, he soon got a job interview with Rockwell, the shuttle program integrator. And the rest, trite as it sounds, is history.
Honeycutt, 55, is no stranger to space hardware. If you could 'letter' in human space flight, he'd have the jacket. He worked in industry for nine years on environmental and structural testing as part of developing the International Space Station, as well as the main propulsion system, external tank, and launch support for the Space Shuttle Program before joining NASA.
Since joining NASA, he's managed the shuttle external tank program, and he's served as deputy manager of the SLS Stages office, SLS deputy chief engineer, and most recently as the SLS deputy program manager.
That's all standard press release stuff, but his experience is worth mentioning just because he doesn't consider it the most important aspect of his new job.
As program manager, Honeycutt knows that he can't be just a hardware guy. He sees his main job as asking questions, seeing where people need help, especially when they don't realize it, and challenging teams to push through barriers.
He also sees himself as program integrator. He places a high priority on getting the SLS team more closely integrated. It's particularly important when things don't go as expected… as they can understandably with the largest rocket in the world.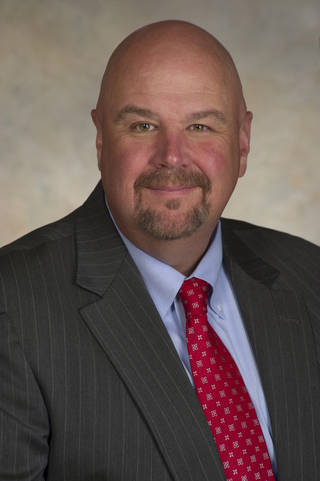 When he was named SLS deputy chief engineer, the program was not yet to its preliminary design review – PDR – one of the early design stages. The various hardware elements – boosters, engines, core stage, etc., were loosely coupled through various interface and performance requirements.
SLS has most recently completed its Critical Design Review – CDR – and the pieces that were once separate will start coming together in every sense of the word at every level for assembly and testing. Big rocket. Big integration job.
"In the earlier design stages, integration is not as strict relative to how communications takes place," Honeycutt observed. "As you roll out of CDR and are pressing toward certification and on to launch, that transition requires you coordinate much closer. It will come to a point soon where I have to stand up and say this vehicle is certified for flight and can show how the pieces interconnect. We're becoming more tightly integrated as a team, not just the SLS team, but its sister programs – Orion and Ground Systems (at Kennedy Space Center) – all under the Exploration Systems Directorate enterprise."
Having worked on the hardware development side and the hardware operations side, he understands there's a difference in how you approach challenges. That cross-cultural experience should help Honeycutt now as SLS moves from design into the "pencils-down", design-complete, manufacturing and assembly that is gearing up.
The design is at least 90 percent complete by definition, and the vehicle is literally taking shape in factories around the country. Having been through challenges ranging from the Columbia shuttle accident to the destruction of Hurricane Katrina, and the ongoing lessons that every shuttle mission taught, Honeycutt knows SLS has more challenges ahead.
"I'm not going into this thinking we're going to sail smoothly all the way up through Design Certification Review," he says. "It's up to me to look through things and see what's coming."
His decisions will be aimed at flying the first SLS mission on schedule and then having the second rocket ready as close behind the first as possible. Of course, that's his job.
But Honeycutt has one more, longer-range personal goal that looks beyond delivering hardware to what that hardware will mean for the nation, and for the people who built it – a goal "for everybody working on this program to look back and say it's the best thing they've ever done."
To make that happen, it looks like a serious commitment to his golf game will have to wait.
---
Next Time: Passing A "Critical" Milestone
Join in the conversation: Visit our Facebook page to comment on the post about this blog. We'd love to hear your feedback!