How do you get to Mars? You build a rocket, and go.
OK, it's actually a bit more complex than that. A lot more complex, really. But that's still a vitally important step. We'll come back to why in a minute.
First, let's talk about that "complex" part.
Mars is hard. Really hard.
To start with, Mars is far, far away. At its closest, it can come within 34 million miles of Earth, but that's a once-in-millennia approach. Usually, if the distance gets within the low 50s, that's really close. At farthest, Mars is about 250 million miles away. Distance means it takes time to get there.
As you travel that distance, there's a giant ball of gas in the center of the solar system that really wants to kill you. Once you leave Earth, you're being constantly bombarded with radiation from our own sun and distant stars.
Then there's the fact that, if you wanted to design a planet that would be hard for humans to land on, Mars would be a good start. The atmosphere is thick enough to combine with the gravity to make an Apollo-style powered descent difficult, but it's too thin to make a Shuttle-style glide or Orion-like parachutes easy.
Once you make it past the distance, through the radiation, and to the surface, Mars is still inhospitable. Back in 1972, following a detailed survey of planetary conditions, noted Mars expert Elton John summarized that it ain't the kind of place to raise your kids, and for the moment that's not a bad assessment.
All of these challenges are substantial. All of these challenges can be overcome.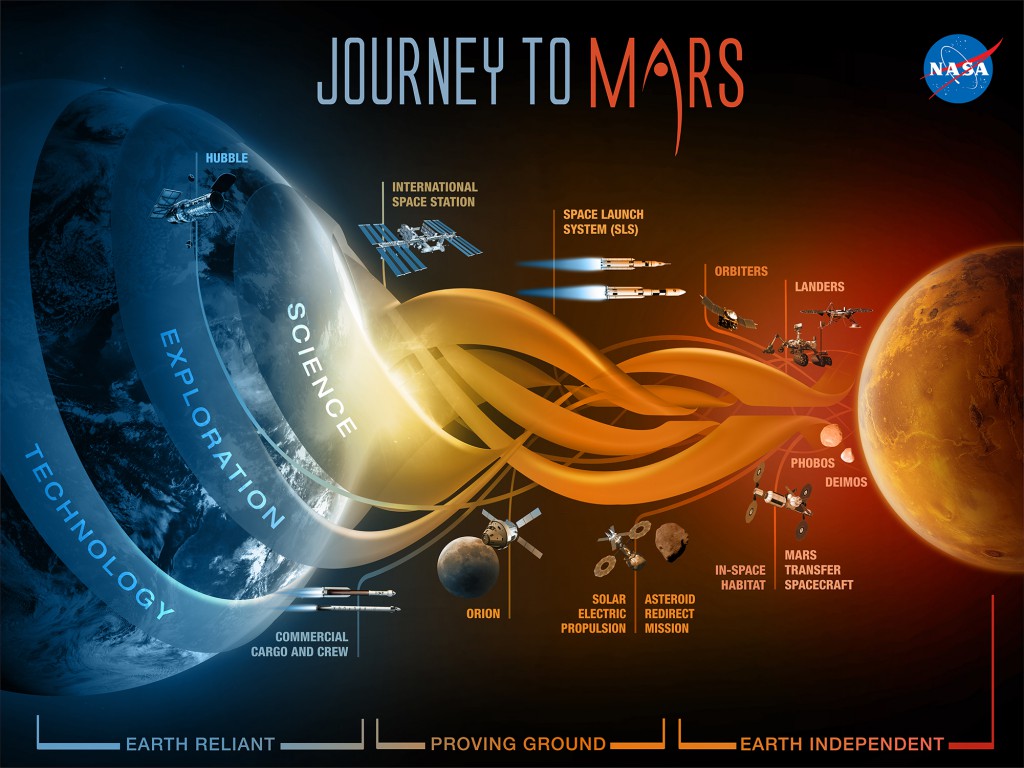 NASA's Journey to Mars is a holistic approach to solving those challenges, to landing humans on Mars, and to answering key scientific questions about Mars, its environment, its history and its habitability.
This Journey is not something NASA is planning to do; it's something we are doing, right now, in numerous ways, combining the best of our experiences and abilities in a variety of fields.
Robotic explorers are today orbiting the planet and driving across its surface, teaching us more about the conditions there in order to answer those scientific questions and help us prepare for human exploration.
Astronauts aboard the International Space Station are conducting research regarding living in space for the long durations a Mars mission will require, learning more about how to maintain both equipment and the human body during the journey.
Scientists and engineers are working to mature the advanced technologies that will be needed to solve the complex challenges like radiation protection and entry through the Martian atmosphere.
We are also building the robust systems that we need to carry out the trip. The Exploration Flight Test-1 of the Orion crew vehicle in December 2014 was a major milestone, and the first flight of Space Launch System will be another. Later will come in-space propulsion systems, deep-space habitats, and more.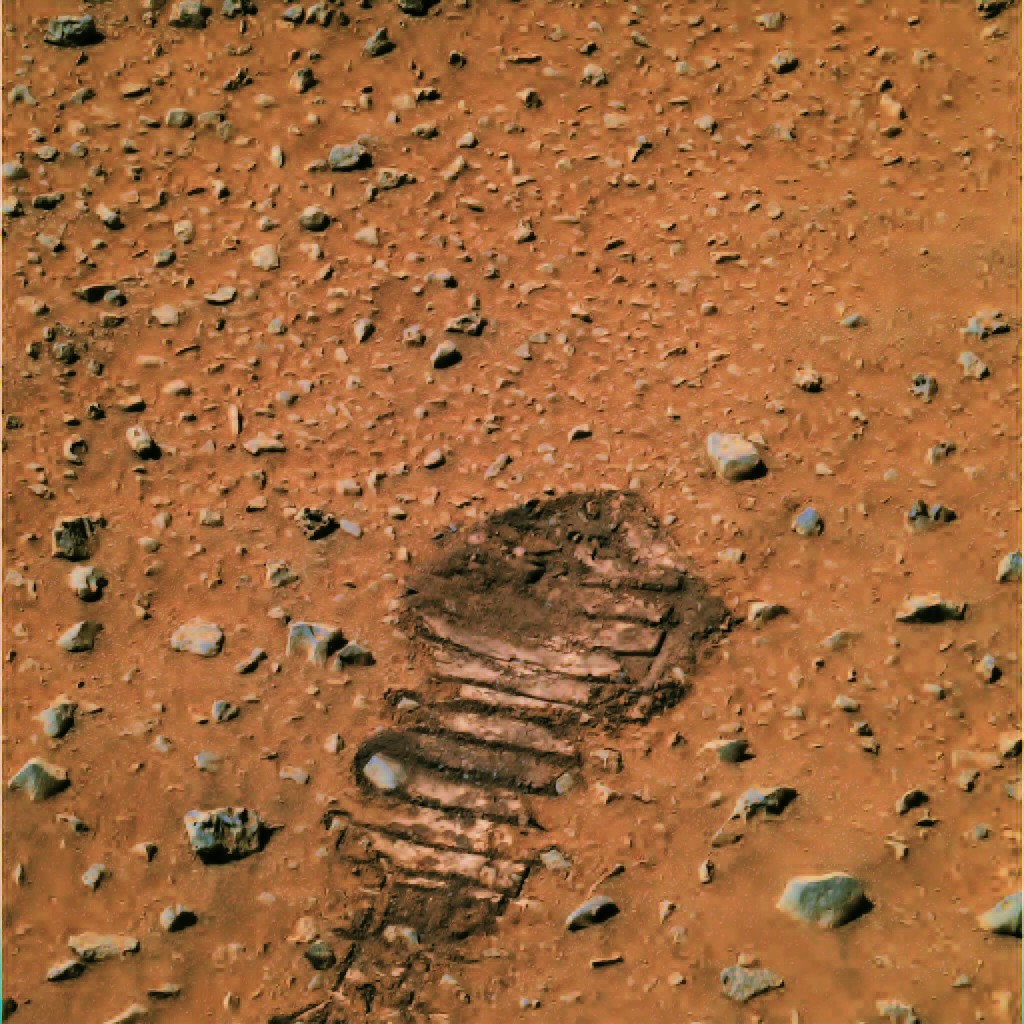 We're still in the early phases of the Journey, when our human spaceflight is still "Earth-Dependent," relying on the supply line and other benefits that come from proximity to our home planet.
Soon, we will begin a series of increasingly ambitious "Proving Ground" missions, traveling farther into space and testing new systems and capabilities.
Finally, when we've demonstrated we can be "Earth-Independent," we'll be Mars-ready. It will be time to take the next giant leap – possibly first into Mars orbit or the Martian moons, and ultimately to take our first steps on the surface of another planet.
Which brings us back to how you get to Mars – You build a rocket, and go.
All of those challenges will ultimately be solved with hardware – habitats to live in on the long journey, shielding to protect from radiation, supersonic decelerators to descend through the Martian atmosphere, advanced life support for living on the surface, and much more. There will be a lot of that hardware, and some of it will be truly massive. And none of it does any good sitting on the surface of the Earth. If you want to get to Mars, you have to be able to put all of that into space. And that's where Space Launch System comes in. You have to build a rocket. A big one.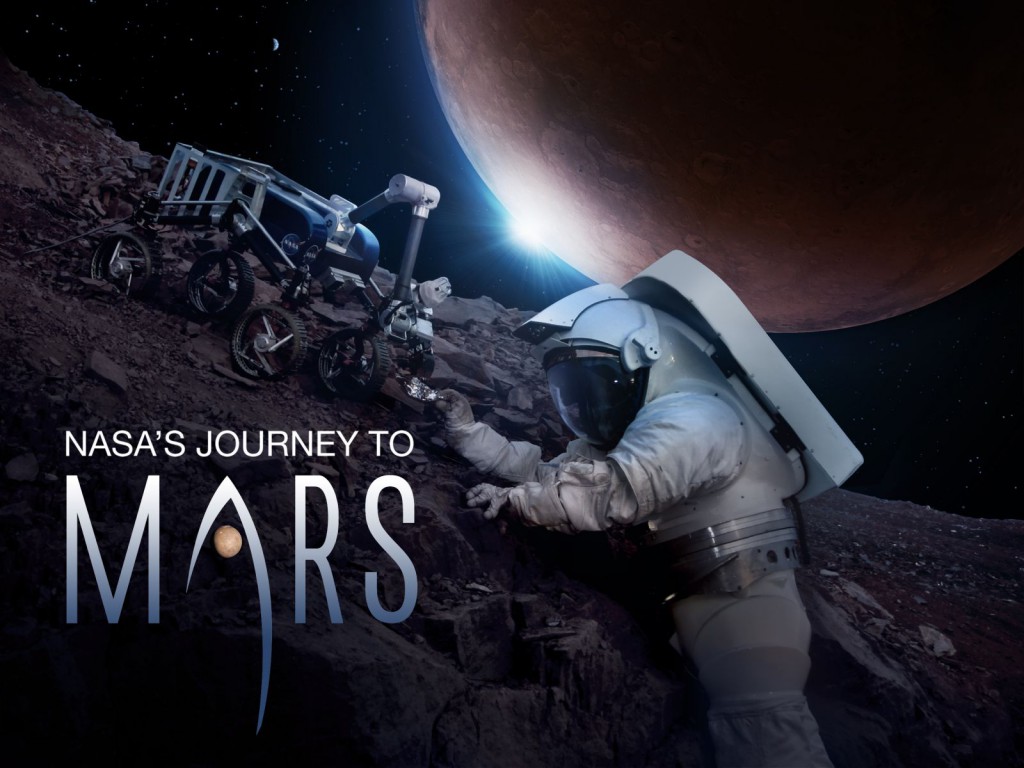 And none of it matters unless you do it. Wernher von Braun went on Walt Disney's Tomorrowland television program in the 1950s to talk about going to Mars, and much time has been spent talking about going to Mars in the decades since, by NASA, other countries, technical societies, industry, and others. You have to talk about Mars, you have to plan, before you can go, but talking and planning alone won't get you there. You have to do something.
Today NASA is doing something in a way that neither we nor anyone have before. NASA's Journey to Mars is unique in that it is the first and so far only time that any organization has actually begun building systems designed for human exploration of Mars. We have a long way to go, but we're taking the first steps.
How do you get to Mars?
You build a rocket.
And go.
Next Time: Four Lessons In Four Years
Join in the conversation: Visit our Facebook page to comment on the post about this blog. We'd love to hear your feedback!
---
David Hitt works in the strategic communications office of NASA's Space Launch System Program. He began working in NASA Education at Marshall Space Flight Center in 2002, and is the author of two books on spaceflight history.