By Beverly Perry
We don't know who will take those first steps on Martian soil, ushering in the age of humans as a multi-planetary species. But we do already know a couple things about those first intrepid explorers: They're taking steps on Earth right now; and they belong to a generation that is tech-savvy, and raised on the internet and social media. But do today's students think about exploring beyond this world and into deep space?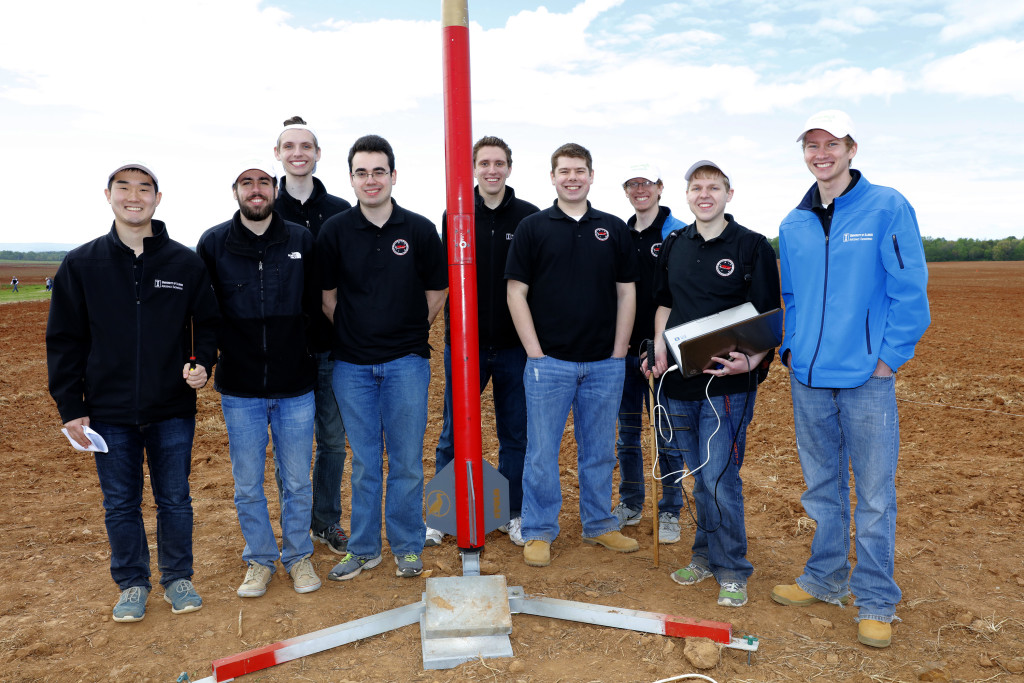 "Every day – we can't get enough of that stuff!" said Ben Collins from the University of Illinois Urbana-Champaign on a recent windy morning that was spent launching rockets in a field north of Huntsville. Collins and his teammates were among 51 student rocketry teams that competed in various challenges and sent their amateur rockets soaring during the 16th annual Student Launch rocketry challenge April 13-16.
At this year's Student Launch, middle and high school students and university computer scientists, physicists and engineers of all stripes (aerospace and mechanical were particularly well-represented) got to tour NASA's Marshall Space Flight Center, the center responsible for developing the Space Launch System (SLS), the country's next-generation heavy-lift launch vehicle.
While there, the students heard from a member of their generation actively involved in designing and engineering SLS: Marshall engineer Kathryn Crowe, who is part of a generations-spanning workforce blending fresh thinking with years of experience. (See Time Flies: Next-Generation Rocket is the Work of Generations for more about Kathryn's work.)
For some, the competition – and the visit – were a taste of things to come.
"My biggest career goal is to work on the Journey to Mars – to somehow be a part of it," said Brandon Murchinson, also of the University of Illinois Urbana-Champaign. "I think SLS is incredible. As someone who's always been interested in space exploration and travel, it's why I chose this career path."
NASA's call for new astronauts earlier this year also made an impact on the future engineers and scientists at the Student Launch. Paul Grutzmacher, a 17-year-old senior at St. Vincent-St. Mary High School in Akron, Ohio, said that his career goal is to become a pilot for the Orion crew vehicle that will launch on SLS. "SLS excites me because it's supposed to take us farther than we've gone before and it's also our next heavy lifter," he added.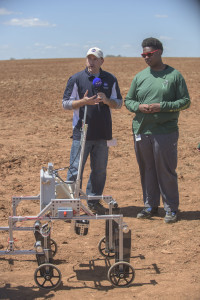 Grutzmacher thinks he's got the right stuff to fly on SLS, but so does Vanderbilt University's Rebecca Riley, a senior computer science major who plans to continue her education in particle physics. "I think we're all pretty excited that we might be the right age to be going to Mars. I'm like, Man, that's going to be me going to Mars!"
These students recognize the value in missions that build expertise in long-duration spaceflight – and the technological spinoffs that arise from the process. To hear them tell it, long timelines just don't scare them.
Auburn University's student rocketry team tracks progress on America's next great rocket by following social media and events like solid rocket booster static test firings and RS-25 main engine tests. "Social media makes it a lot more tangible," said Auburn's Burak Adanur. "And I think it gives people something to look forward to," he said.
Vanderbilt University's Andrew Voss has participated in the Student Launch over the past four years. "I have seen a lot of work go down," he said. "And I like seeing the test stands because the work that goes into testing is a feat of engineering." Check out our recent blog post on Engine 2059 for more about how an engine helped test a test stand.
Tech-obsessed students have no trouble spouting off advancements that have arisen from America's space program: cell phone cameras, scratch-resistant sunglasses, memory foam, and the list goes on. Vanderbilt's Voss said, "That's part of what NASA's always done, and what could come out of SLS is not just spaceflight, but technology that drives the world forward."
"I think that's one of the most important aspects to space exploration," said Auburn's Adanur. "We have to go space because it's a mechanism – it's a crucible – that will change us as a society and give us new technologies. I think it has more of a ripple effect than most people think."
Chris Lorenz of the University of Illinois at Urbana-Champaign said he sees the value of NASA's proving ground missions to build up for human Mars landings. "I'm a big fan of what NASA does in robotic exploration. It's smart to go unmanned and build up infrastructure first before attempting manned missions," he said.
Vanderbilt's Mitch Masia said that while proving ground missions are necessary, deep space exploration really gets people going. "The space station is awesome and a huge feat and deep space missions will get people even more excited." Case in point: Worldwide amazement and wonder at the photos of Pluto NASA's New Horizons spacecraft has been sending back to Earth.
Participants at the Student Launch emphasized that their generation wants its chance to make history. They want their Mars shot. "I think SLS will bring our generation together," said Michael D'Onofrio, a 17-year-old senior at Sylvania Northview High School in Sylvania, Ohio. "Something that's greater than where we are – going beyond Earth – will bring us together."
Vanderbilt's Riley said, "I'm excited about SLS in a very patriotic way. SLS and going to Mars is that big goal that we can all get behind and be excited about as an American people."
---
Join in the conversation: Visit our Facebook page to comment on the post about this blog. We'd love to hear your feedback!