Last week was a great week for missions at NASA.  We successfully launched the Gamma-ray Large Area Space Telescope (GLAST); Space Shuttle Discovery safely returned with the STS-124 crew; and Phoenix scooped and scraped at the surface of Mars uncovering what may be either ice or salt immediately below the Martian surface.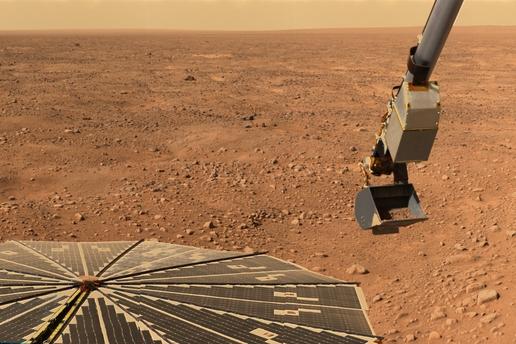 GLAST
GLAST, a powerful new observatory, was launched to explore the most extreme environments in the Universe.  Gamma rays are the highest-energy form of light, and the gamma-ray sky is spectacularly different from the one we perceive with our own eyes. GLAST data will enable scientists to answer persistent questions across a broad range of topics, including supermassive black hole systems, pulsars, the origin of cosmic rays, and searches for signs of new physics.  GLAST is a partnership between NASA and the Department of Energy with international contributions from France, Germany, Italy, Japan, and Sweden.  This mission is expected to last five years with a goal of ten years of operation.  GLAST will be working with NASA's Great Observatory missions (Hubble Space Telescope, Chandra X-ray Observatory, and the Spitzer Space Telescope) to provide full-spectrum coverage of the heavens for astrophysicists around the world.  Thanks to the GLAST team for their contribution to the blog.  For more information visit: https://www.nasa.gov/glast.  
 
STS-124
After 14 days in space, Space Shuttle Discovery safely landed after another successful mission to the International Space Station (ISS).  Discovery completed a 5.7 million mile journey that included delivery of the Japanese Science Laboratory known as "Kibo" and picking up Astronaut Garrett Reisman who returned home after 95 days in space – 90 of which were aboard the Station.  There were three spacewalks totaling 20 hours, 32 minutes.  The crews transferred 1,787 pounds of resupply cargo and returned 1,807 pounds of cargo to Earth.  Discovery hauled up and delivered to the ISS 783 pounds of water, 135 pounds of nitrogen, 121 pounds of oxygen and as some would say the most important of all — toilet parts.  
Left behind on the station is the Expedition 17 crew, Commander Sergei Volkov, Flight Engineer Oleg Kononenko and Reisman's replacement, Flight Engineer Greg Chamitoff, who will spend the next five months on the Station until his return home on STS-126.   Welcome home STS-124.
UNCOPUOS
Last week, I had a unique opportunity to travel briefly to Vienna, Austria, to address the United Nations Committee on the Peaceful Uses of Outer Space (UNCOPUOS).  An important objective of my visit was to provide the Committee with an overview of NASA's first 50 years in space, as well as communicate our future plans for space exploration that will encompass a need for global cooperation and partnership.
UNCOPUOS was set up as an ad hoc committee by the General Assembly in 1958, and as a standing committee in 1959, to review the scope of international cooperation in peaceful uses of outer space, to devise programs in this field to be undertaken under United Nations auspices, to encourage continued research and the dissemination of information on outer space matters, and to study legal problems arising from the exploration of outer space.  UNCOPUOS is comprised of sixty-nine member countries; observer organizations, such as the European Space Agency; and other UN organizations.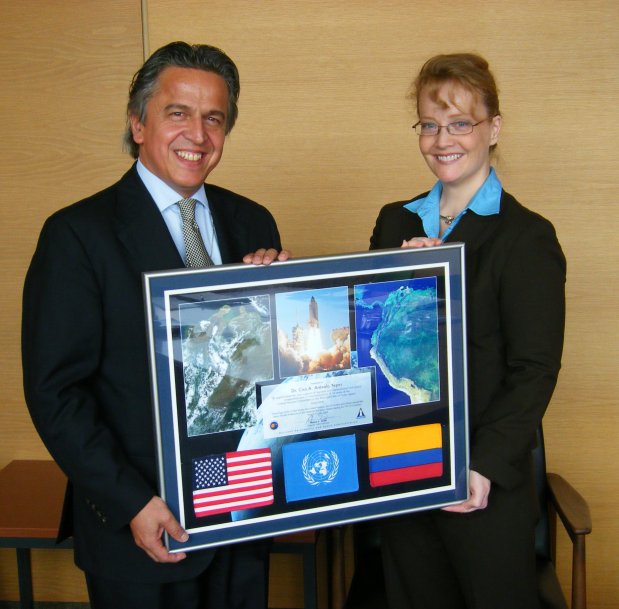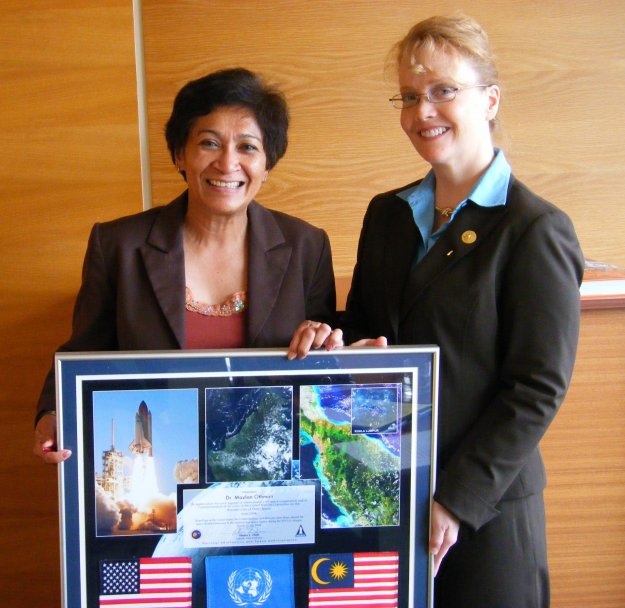 I also had meetings with the Chairman of UNCOPUOS, Dr. Ciro Arevalo-Yepes (see image above on the left),  the Director of the UN Office for Outer Space Affairs, Dr. Mazlan Othman (see image above on the right) and the U.S. Ambassador to the United Nations in Vienna, Mr. Greg Schulte. 
 
On a personal note, while I did not participate in any soccer-related events during my trip, it was fun to be in Austria during the ongoing Euro 2008 soccer tournament, which Austria and Switzerland are hosting this year.  During my brief stay, the national team from Austria played the national team from Poland in Vienna and the entire town was alive with excitement surrounding the game.  Fans from both Austria and Poland were walking around town dressed in team colors.  I would like to thank the Office of External Relations for doing a great job with this trip.