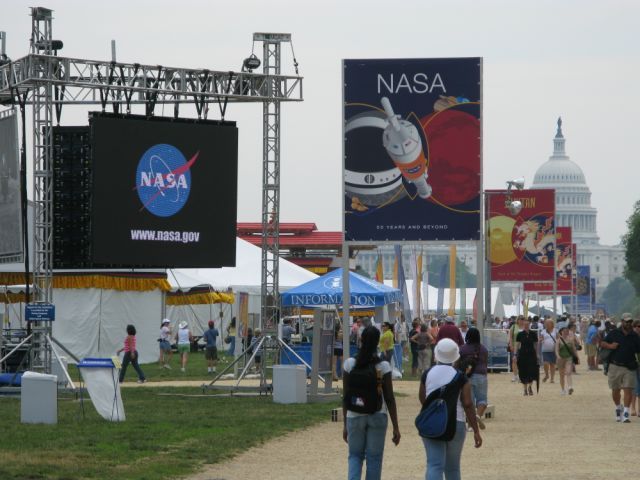 Last week marked the opening of the Smithsonian Folklife Festival in Washington, D.C. held at the National Mall. (see image at left)  This year, NASA, the State of Texas and the Kingdom of Bhutan are the honorees. The Folklife Festival is held for ten days June 25 – 29, and July 2-6, is free to the public and typically attracts more than one million visitors.

Image at left is  the Prince of Bhutan, Jigme Khesar Namgyel on a NASA Moonbuggy
NASA: Fifty Years and Beyond will showcase the role that the men and women of NASA have played in broadening the horizons of American science and culture, as well as the role that they will continue to play in helping to shape the future by stirring the public imagination.
The NASA program includes presentations, hands-on educational activities, demonstrations of skills, techniques, and knowledge, narrative "oral history" sessions, and exhibits that will explore the spirit of innovation, discovery, and service embodied by the Agency. We have over 500 volunteer representatives that include astronomers, astronauts, astrophysicists, scientists, engineers, and other subject matter experts to answer questions from the public. 
The Festival kicked off with several exciting events, including a special advance screening of the Disney Pixar film Wall-E in Washington, D.C., and a special concert of Gustav Holst's The Planets by the Space Philharmonic, a part of the National Symphony Orchestra, led by Maestro Emil De Cou. The concert, held in the Museum of the American Indian, included imagery from NASA and featured the playing of the new Wall-E theme song.  These special events set the stage for a great week of sharing NASA's culture, mission and inspiration with tens of thousands of visitors on the Mall.
This week we have more exciting events in store for the more than 100,000 expected visitors per day over the Fourth of July weekend.  Please check out the NASA Folklife Festival activities and schedule at www.nasa.gov/50th/Folklife/ or NASA employees can visit our communications portal at http://communications.nasa.gov.